Brendan Rodgers: Daniel Sturridge can fill void left by Luis Suarez
Liverpool boss Brendan Rodgers is backing Daniel Sturridge to fill the void left by Luis Suarez's 10-match ban.
Last Updated: 27/04/13 4:51pm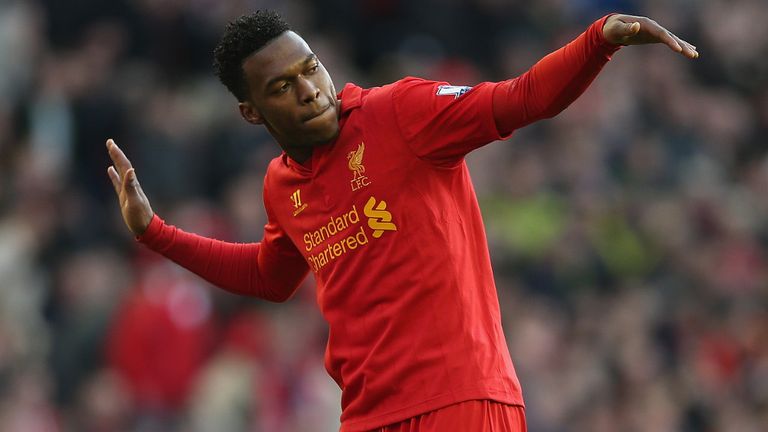 Suarez will be out until late September after deciding not to appeal his 10-match suspension for biting Chelsea's Branislav Ivanovic last weekend.
Suarez has scored 23 goals in the Premier League and 30 in all competitions, but Rodgers expects Sturridge - who has scored six in 12 appearances since arriving from Chelsea in January - to step up to the plate in his absence, starting with Saturday's clash with Newcastle.
"He's only been here a short time but in the times he has trained and then gone out and played he's shown he is one of the top strikers in the country," he said.
"We're hoping we can maintain that training mentality. When he takes that into the games, he's a real threat for us.
"He's fitted into the football club really well. He missed a bit of training last week but if we can keep him fit and keep him out on the training field, he's got the potential to be a top European striker.
"That's hopefully something he can fulfil here at the club."
Sturridge showed how influential he can be after coming off the bench last weekend against his former club. He created a clear chance for captain Steven Gerrard before scoring himself and providing the assist for Suarez's added-time equaliser.
"He was outstanding when he came on," said Rodgers. "In the first half of the game we were too slow in our play, our movements weren't as dynamic as what they've been in a lot of games.
"The intensity wasn't quite what it normally would have been but in the second half when he came on he gave us a real threat - his pace and power were outstanding.
"He scored a goal, which was a great finish, and could have had two or three more."
Rodgers says it will not just be down to Sturridge to try to ensure Suarez's absence does not hurt them too much. "It's the team's responsibility," he said. "I said to the players the other day, whatever happens with Luis there's also a plan going forward for the team - we have to keep progressing.
"That's about the team showing their solidarity on the field and making sure that one player doesn't feel that burden.
"It's really about the team's responsibility now to push on.
On what will happen with Suarez during his lengthy absence, Rodgers added: "There's a plan for him to make sure he's a part of the group and doesn't feel isolated. Of course, he can't play - but there's a plan."