Sir Alex Ferguson has sympathy for Liverpool over Luis Suarez ban
Sir Alex Ferguson understands why Liverpool feel 'aggrieved' after Luis Suarez was given a 10-match ban by the FA.
Last Updated: 27/04/13 12:22pm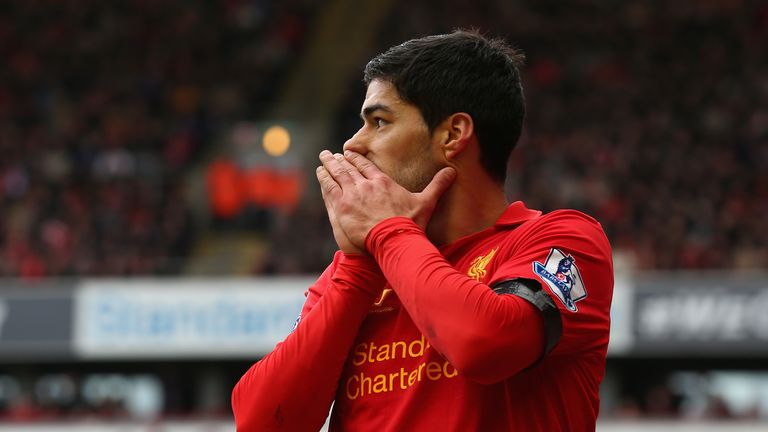 It was announced on Friday that Suarez will not appeal against the suspension, handed to the Uruguayan striker after the incident occurred during last Sunday's 2-2 draw with Chelsea at Anfield.
Liverpool managing director Ian Ayre said both the club and player were "shocked and disappointed" by the severity of the punishment when it was announced earlier this week.
Manchester United boss Ferguson says he can understand their disappointment and feels they were right not to suspend the player before the FA dealt out the punishment.
Ferguson reflected on ex-United ace Eric Cantona's nine-month ban for his attack on a Crystal Palace fan back in 1995, claiming the FA told him that if United banned the player they would not take further action - but then upped the four-month suspension that the club had imposed.
"I think back to Cantona and I have to say, a nine-month ban doesn't equate to a 10-match ban, does it?" said Ferguson.
"I can understand how Liverpool are aggrieved at it. I must say that, I'm sure they are.
"I keep going back to (Cantona) - the FA had done us that day. We would never allow that to happen now.
"I would never have listened to them in the first place saying that if you make your punishment we'll be happy, and we did that by giving him a four-month ban and then they turned round two or three days (later, and said) 'Right, we're charging him'. We would never allow that to happen again."
On Liverpool's decision not to ban Suarez before the FA's punishment was handed out, Ferguson added: "I bet they're glad they didn't.
"It didn't work with us, that's for sure. (Former FA executive) David Davies promised us that if we did it (ban Cantona), there'd be no more action take - b****y hell.
"If you think about it - a nine-month ban, it's quite incredible, I still can't get round that, but there you are."