Liverpool striker Daniel Sturridge wants regular starts after Newcastle brace
Daniel Sturridge wants to play regularly from the start after scoring twice in Liverpool's 6-0 win at Newcastle.
Last Updated: 27/04/13 7:53pm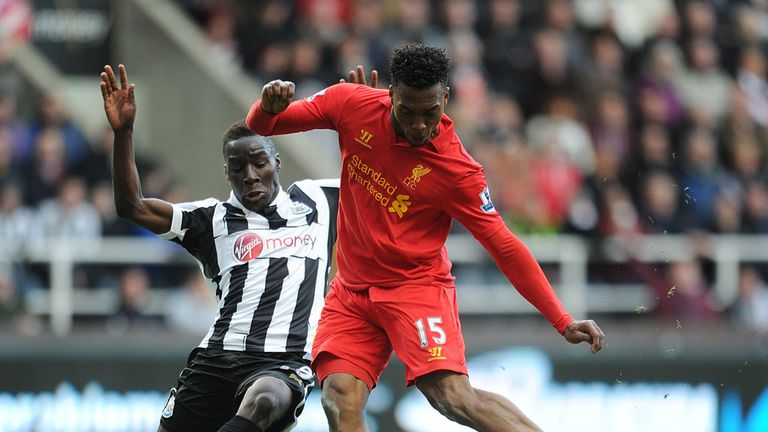 Liverpool striker Suarez's 10-match suspension for biting Branislav Ivanovic against Chelsea last week is likely to hand Sturridge an extended run in the starting line-up.
The January signing from Chelsea repaid Brendan Rodgers' faith with a brace at St James' Park and he is keen to make the most of his opportunity.
"I wouldn't say with Luis being out that I'm delighted as he's a good player and it's unfortunate that he's got a lengthy ban," Sturridge told ESPN.
"But it's good for myself that I'm able to get some games as I didn't come to Liverpool to sit on the bench. For me, it's important to be playing and that's what I want to do."
Regarding a turbulent week for Liverpool, Sturridge commented: "The manager emphasised that we've got to be a team and stick together, and that's what we've done.
"We've gone on the field and worked as a unit. It's been a difficult week, but we've come out to do a job and that's what we've done today."
Jamie Carragher also acknowledged that it has been a tough week for Liverpool and expressed his hope that Newcastle will not be relegated from the Premier League.
The veteran defender said: "Coming to Newcastle, who are fighting for their lives, you know it's going to be a tough game and it normally is.
"It was one of those days for us. Newcastle are a great club and I don't want to see them go down, I'd like to see Newcastle stay up.
"It has been a difficult week with what's gone on this week, but it was a top performance at St James' Park, which is a difficult place to come, even though they're not doing as well as they normally would."