Liverpool boss Brendan Rodgers pays tribute to the retiring Jamie Carragher
Brendan Rodgers admitted Jamie Carragher could easily play on after ending his career with victory over QPR.
Last Updated: 20/05/13 6:54am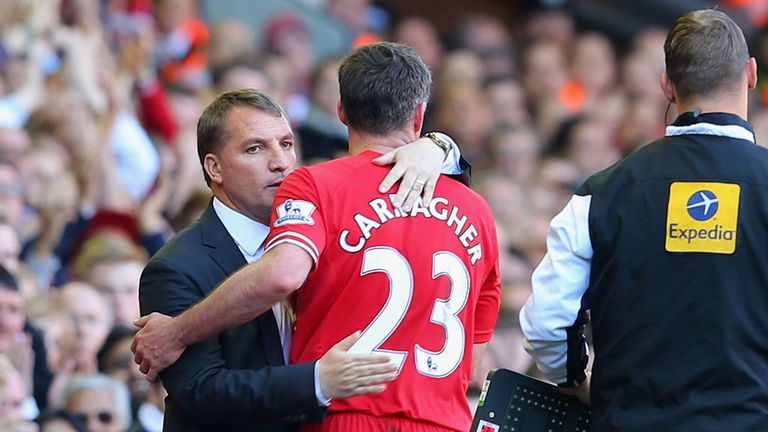 Carragher was given an emotional send off by the Anfield crowd as he bowed out of football after 16 years at the club.
Rodgers was full of praise for the contribution of Carragher during his first season in charge at Liverpool and believes the 35-year-old could play on for another season at least.
"Jamie's ambition was always when he left Liverpool to go out on top and you see in the guy today he did that," said Rodgers.
"He nearly scored a fantastic goal, just his all-round game he's going out as a top, top player. He could still play another year.
"But he has been absolutely phenomenal for me in my time here. You see today his organisational skills, his quality, his leadership was first class.
"I am really delighted for him because he wanted to finish the game with a win.
"He has been a big part of 16 clean sheets in the league, which is a great achievement so we know we are only margins away from being a decent side.
"We need to add some players in summer but unfortunately one of those will have to come in to replace the likes of Carra who has been an absolute colossal player for this club."
Rodgers also had words of encouragement for Jordon Ibe after he was handed his debut for the club at the age of 17.
"I thought he was excellent," added Rodgers. "I thought he got better, probably at the time I took him off he was really starting to find his feet in the game, but I looked at giving him 65 minutes.
"It's a great experience; he has done very well this year.
"It is also another sign to young players that they will get an opportunity here if they perform well in the youth team and reserves.
"He is a real bright talent, he is a very young 17. He has a lot of potential but hopefully he could be one for the future for us."