Suarez alternatives
Ryan Parrish looks at the alternatives for Liverpool should Luis Suarez leave
By Ryan Parrish
Last Updated: 31/05/13 5:56pm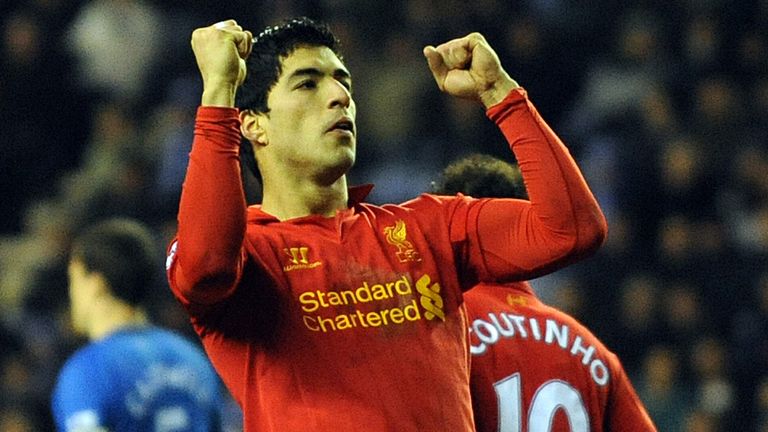 Luis Suarez' admission that he expects to leave Liverpool this summer comes as a bit of a shock. But although Liverpool still insist he is not for sale, cashing in on the temperamental Uruguayan could work in their favour - just like the sale of the man he replaced, Fernando Torres, did.
Back in January 2011 when Kenny Dalglish opened his chequebook to bring Suarez to Anfield, he will have been well aware of his controversial tendencies. At the time of the switch, he'd just completed a seven-match ban for biting PSV's Otmann Bakkal whilst playing for Ajax, and his antics in the 2010 World Cup were also still fresh in the memory having seen red for using his hand to keep out a goal-bound effort from Ghana in the quarter-finals. But Dalglish will have hoped that the new surroundings and the pressures of playing for Liverpool would help the 24-year old to mature and allow his football to do the talking - which more often than not, it has.
Controversy
Suarez has been unplayable at times during his spell at Liverpool - particularly this season when he netted 23 goals in 33 Premier League appearances, a prolific return for a team who spent large chunks of the campaign lingering in mid-table. Subsequent to his arrival in 2011, his impact was almost overshadowed by fellow deadline day signing Andy Carroll's inability to find the net, but out of the spotlight, he established himself as a key figure at Anfield, helping Dalglish's side to a top-six finish. However, the following season his form mirrored Liverpool's as both player and club struggled to recreate the potential shown in the second-half of the previous year. Perhaps hampered by Suarez' absence for eight games after being found guilty of racism towards Manchester United's Patrice Evra, as he became embroiled in his first major controversy on Merseyside.
Things seemed to have cooled down by the time the two sides met at Old Trafford the following February, but Suarez' refusal to shake Evra's hand sparked things off once again. The striker signed a new long-term deal at Anfield last summer and after a blistering start to the season, scoring 10 goals in his first 12 league games; it looked like he was finally letting his talents prevail over his shortcomings. He remained prolific throughout the season and was deservingly nominated for the PFA Player of the Year award. But in April came another moment of madness when he bit Chelsea's Branislav Ivanovic on the arm during their 2-2 draw at Anfield. As a result, he was handed a 10-game ban, hampering Brendan Rodgers' plans for the start of next season.
Potential replacements
Despite his flaws, the idea of selling Suarez after the season he has just had would be unthinkable to most Liverpool fans. But providing the potential transfer fee received for him is re-invested wisely, they could actually end up in a much more favourable position to mount a serious fight for a UEFA Champions League spot. This year has seen a number of Premier League strikers burst onto the scene and rock the goal scoring charts in their debut seasons. Aston Villa's Christian Benteke or Swansea's Michu could be realistic signings should Liverpool chose to re-invest in a striker, but there is no doubt that Brendan Rodgers would be forced into paying inflated prices for either player - who would have been available as a duo for under £10million at this time last year. Rodgers may look to emulate their successes though by using his scouting network to bring in a relatively unknown at a bargain price, but the demanding Anfield crowd will want instant rewards from any replacement if their prize asset is to be sold.
Real Madrid are the club believed to have shown an interest in Suarez and a part-exchange deal could be something that Rodgers looks towards should the Spanish giants make a move. Gonzalo Higuain could be allowed to leave the Bernabeu, although Liverpool would be unlikely to see much in terms of cash remaining after any potential deal. The Argentine striker is a proven goal scorer at the highest level, but the lack of Champions League football may a sticking point. The romantics amongst the Anfield faithful will also undoubtedly be pointing towards a return for Xabi Alonso, a player they've failed to replace since his departure in 2009, but again he will surely be demanding European football if he is set for an exit.
Ready-made alternatives
Rodgers may even choose to look closer to home to help appease the potential departure of Suarez. The form of January signings Daniel Sturridge and Coutinho gave Liverpool a new edge in the second-half of the season, meaning that they didn't need to rely so heavily on Suarez for the majority of their attacking output. Sturridge proved his worth in front of goal with a hat-trick in the win over Fulham and his contribution was a key factor in Liverpool's late push for a European place. Summer signing Fabio Borini has had a stop-start campaign due to injury problems, but after scoring his first Premier League goal last month, he'll be looking to kick-start his Liverpool career next season.
There's no doubting Suarez' ability and at times this season he has single-handedly carried Liverpool and won games on his own, but if Rodgers' side are to mount a serious push for European football next season, they could do without the pantomime that comes with him. Whether he stays or goes, Luis Suarez is likely to be a major factor in how Liverpool's season pans out.