Transfer news: Luis Suarez urges Liverpool to 'listen' as future remains in balance
Luis Suarez has urged Liverpool to heed his wishes as he continues to be linked with a summer departure from Anfield.
Last Updated: 15/06/13 7:18pm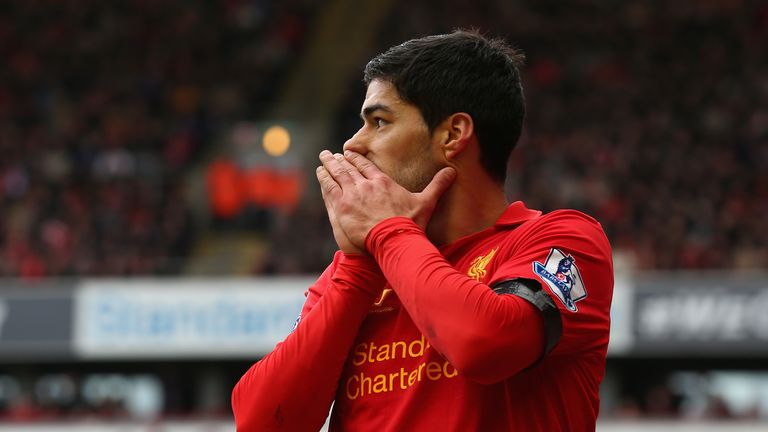 The Uruguay striker appears set to end a turbulent two-and-half-year spell in England, claiming his love for the club is outweighed by what he perceives as unfair treatment from the Football Association and the English media.
Suarez, who has six matches of a 10-match domestic ban still to serve for biting Chelsea's Branislav Ivanovic in April, has yet to submit an official transfer request.
But the 26-year-old, currently on international duty at the Confederations Cup, has reiterated his desire to join Real Madrid and says his aspirations should be key to any decision over his future.
"First I have a contract with the club, but if one day I want to sign (for another club), Liverpool will hear the offer, as it does with other players," Suarez was quoted as telling Spanish newspaper Marca.
"They must agree with other teams, but the word of the player, in this case mine, is important. If you need a change, you should listen to the player.
"Every player aspires (to be the best) and if you ask a child of eight years they would say one day they would go to Real Madrid or Barcelona."
Suarez, who signed a new contract last summer and has four years of his current deal left to run, has claimed manager Brendan Rodgers is aware of his desire to leave.
But Liverpool disputed that in a statement released last month and said they expected their star man to honour his contract.
Divisive
Suarez has been a divisive figure during his time at Liverpool, with misdemeanors ranging from his racial abuse of Manchester United's Patric Evra, to a perennial debate about diving and finally his biting of Ivanovic.
Liverpool's fans have stuck by him throughout, recognising his brilliance as a player, and he admits that he will always appreciate their support.
"The love I have for Liverpool I will never forget," he added.
"I love the city, the club and the people and everyone is welcome. All I ask is for respect for all the things that have been said."
Suarez has also conceded that some of his critics may be right in condemning his on-field theatrics.
"There are moments of importance (in games) and I have lived football in a very particular way since childhood," he said.
"But I know I can play tricks.
"Sometimes I protest too much to the referee. I have to take it a bit better."