Luis Suarez showing lack of Liverpool respect says Jamie Redknapp
Jamie Redknapp says it's time for want-away striker Luis Suarez to show more respect to Liverpool.
Last Updated: 07/08/13 2:15pm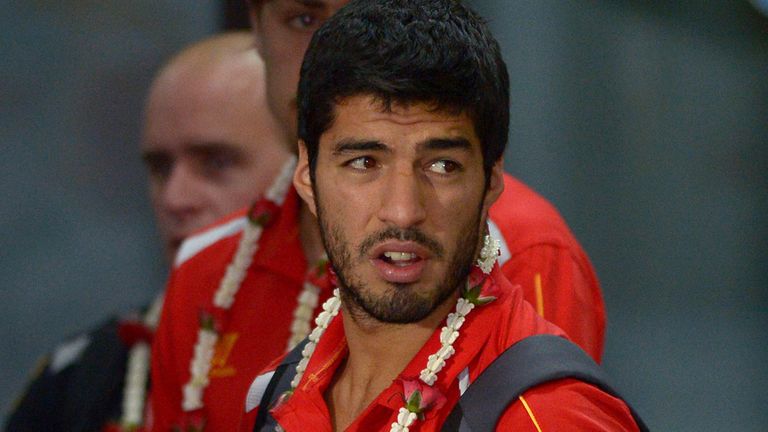 The Uruguayan, who was the subject of a £40million bid from Arsenal last month, appears keen to force through a move away from Anfield and on Wednesday morning he suggested an agreement was made last summer allowing him to leave if the club failed to qualify for the Champions League.
But Sky Sports expert Redknapp, who played for Liverpool from 1991 to 2001, is unimpressed with his attitude after Brendan Rodgers stuck by him after biting Chelsea's Branislav Ivanovic last season and predecessor Kenny Dalglish supported him through the Patrice Evra racism row.
And he says it disrespectful for Suarez to try to engineer a move to one of Liverpool's main rivals after giving him so much support during his two-and-a-half years in England.
Redknapp told Sky Sports: "My one question is why would Liverpool sell Suarez to Arsenal unless he forces the move through?
"I've heard that he is training poorly, he's not very happy and he's making his feelings known. I don't quite see why because Liverpool have looked after him and treated him unlike anyone else.
"Champions League football is always a good excuse - Fernando Torres used that as an excuse as well - and it all boils down to money.
"It's a sad situation given all the support they've given him. Kenny Dalglish pretty much lost his job for supporting Luis Suarez and Brendan Rodgers did it again with the biting incident.
"He should show more respect to the football club because they've protected him and gone beyond the call of duty in doing so.
"We'll have to wait and see where he ends up but I'd be surprised if they do sell him to Arsenal because they're rivals for the top four."