Transfer news: Luis Suarez is not bigger than Liverpool says Brendan Rodgers
Liverpool manager Brendan Rodgers thinks Luis Suarez has gone against the values of the famous club.
Last Updated: 08/08/13 7:40am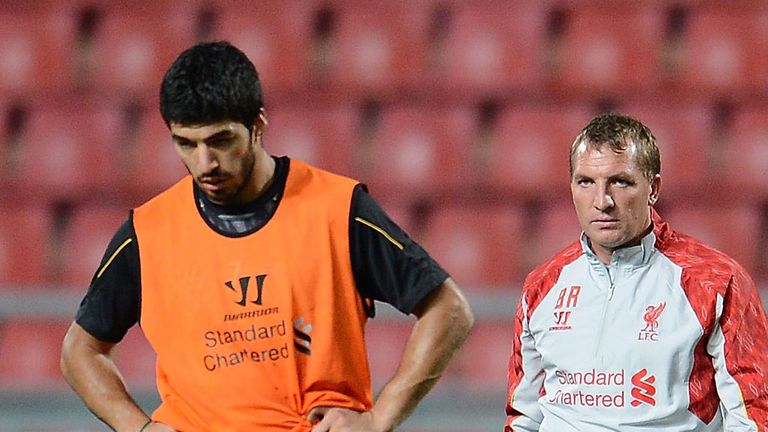 The Uruguayan forward has gone public with his belief that Liverpool have breached his contract by refusing to sell him and he was left on Merseyside to train on his own on Wednesday while the Reds played Valerenga in Norway.
And, speaking after his team had won their friendly 4-1, Rodgers revealed his anger at Suarez's comments.
"We have a standard at Liverpool that I will fight for my life to retain," he said. "There will never be any player or person bigger than the club.
"In terms of the remarks that were made, this is a football club that has always worked in a certain way.
"The Liverpool Way is all about a club with ambition, a club that strives to be the very best, a club that is about commitment. That means that everyone is committed to the cause of fighting for the shirt.
"It's also about dignity and being dignified in how you speak about the club, on and off the field, and it's about unity.
"Those are the four values that run through my mind when I think about Liverpool. Those are the values we will always retain. If anyone steps outside of that standard, I will deal with it. That's something that we'll do."
Arsenal have offered £40m + £1 for Suarez, who has threatened to hand in a transfer request if he is not sold, insisting he has a clause in his contract allowing him to join a Champions League club for £40m.
But Rodgers pointed out that himself and the Liverpool fans have constantly backed the controversial forward through the series of trials and tribulations he has undergone since his arrival.
Everything
"Professionally, Luis Suarez has given me everything since I came into the football club but there is obviously a way in which you have to speak," said Rodgers.
"This is a club that has offered Luis Suarez the utmost respect since the day he walked through the door.
"That's something that over the course of the coming weeks you need to have, when you work for Liverpool Football Club.
"You've got supporters and players that have given Luis Suarez absolutely everything, they backed him to the hilt.
"Even at the weekend, when we had Steven Gerrard's testimonial game, the supporters raised the roof for him.
"That's something that I will always fight to retain at the football club, because that is what Liverpool is about. Respect, humility and real dignity."
Thompson query
Sky Sports pundit Phil Thompson says Luis Suarez might realise his Champions League ambitions at Liverpool quicker than he would at Arsenal.
"This is Arsenal bidding for him and Arsenal haven't even qualified yet for the Champions League," Thompson told Sky Sports News.
"Who knows what might happen? They haven't even got that yet and he's wanting to go to Arsenal for Champions League football.
"Certainly he's going to get the same media attention and the same difficulties as he's had at Liverpool, so is it going to be any different at Arsenal?
"And if Arsenal don't make another signing, which has been known, before the deadline happens at the start of September then where does that leave Arsenal?
"With Liverpool's signings, they could be challenging Arsenal for a top-four place next year. Why choose Arsenal ahead of Liverpool?"