Jamie Carragher: Time to get tough with unacceptable Luis Suarez
Jamie Carragher says Luis Suarez's behaviour is unacceptable and Brendan Rodgers is right to lay down the law.
Last Updated: 08/08/13 5:24pm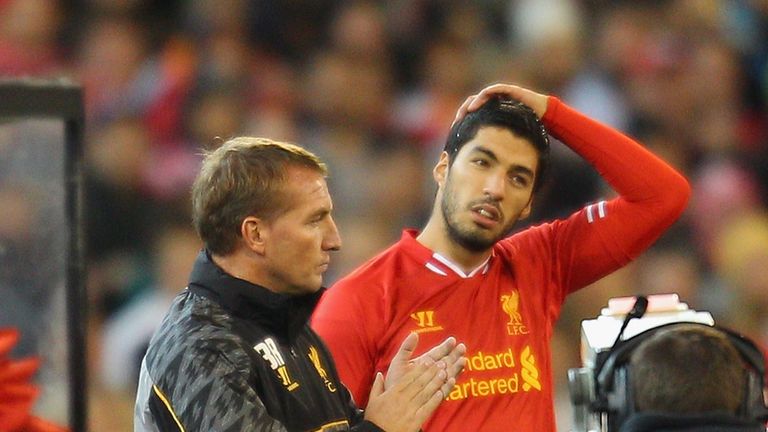 Sky Sports understands that the Uruguayan, a subject of two failed bids from Arsenal, has been told to train on his own away from the first team after going public with claims that the club agreed to let him leave this summer.
Carragher visited the club's Melwood training ground last week and sensed that Suarez, who is banned for the first six game of the season, was not showing an acceptable level of commitment.
And he backed the idea that Rodgers should jettison his star player until he improves his attitude.
Carragher told Sky Sports News: "I know Luis and I've played with him in the last couple of years and he's a warrior. He's a fighter on the pitch and every day in training. He never misses a session.
"I went in to Friday training before Stevie's testimonial and that wasn't the Luis Suarez I knew. I think it's right for Brendan Rodgers to take him out of the group because no one player is bigger than the team or the squad.
"He's not going to be playing because he's banned, so Liverpool need to concentrate on getting it right for the first game of the season against Stoke.
"If Suarez is a distraction for everyone then he needs to be taken out of the group."
Accept
Carragher, who will be a pundit on Sky Sports this season, played alongside Suarez for the last two years and says Liverpool can't afford to sell him to Arsenal.
He says Rodgers cannot let his top striker join a top-four rival and admits he'd have a few harsh words for his former team-mate if he was still in the dressing room.
"Sort yourself. You can't have that and can't accept that," he added.
"There's ways and means of going about it. Players get transferred all the time and you can't always have what you want.
"Liverpool Football Club have got to protect themselves as well. Arsenal are a big rival for a top-four place and maybe if he wanted to go somewhere else it wouldn't be such a big issue and maybe Liverpool would sanction a deal.
"Nobody wants unhappy players at the training ground or on the pitch playing. It affects other people.
"But it's very difficult for Liverpool, like the Wayne Rooney situation with Manchester United and Chelsea. They're direct rivals and that's the big deal. That's the problem."
Carry on
Carragher also says Suarez's public statements have damaged his reputation and may put off potential suitors.
He added: "He can't carry on the way he's been carrying on. Brendan Rodgers has come out and said that nobody is bigger than the club and that's exactly right.
"There will be agents and probably people at Arsenal talking to him, but he's a grown man. He's not a kid, he's got a family and he needs to make his own decisions and what's right for him.
"It's also how he's coming across as a person to the Liverpool public and the country in general.
"Of course Arsenal want to get the player, but sometimes you've got to remember how people are seeing the situation and how people are looking at you."