The main man
Daniel Sturridge has outscored Rooney, Defoe, Welbeck and Lambert in 2013. Ahead of Liverpool's Sunday showdown with old rivals Manchester United, Peter Fraser looks at the striker's impressive development
By Peter Fraser - Follow me on Twitter @SkySportsPeteF
Last Updated: 05/09/13 3:29pm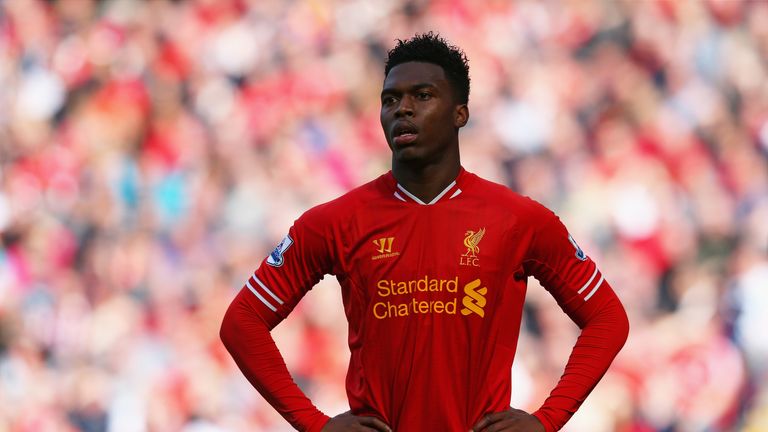 It was a representation of Daniel Sturridge's significant rise to prominence. Speaking on this week's Monday Night Football when analysing Liverpool's weekend win over Aston Villa, Sky Sports expert Jamie Carragher said of his former team-mate: "For me, he is England's best striker."
That Sturridge is being talked about as one of his country's great hopes in a potential World Cup season demonstrates how he has turned his career around. Having previously appeared set to be a youth star who failed to fulfil potential, he is now a feared frontman in the Premier League.
On Sunday, Sturridge will again face Manchester United. He made his Liverpool Premier League debut at Old Trafford in January, scoring as a half-time substitute in a 2-1 defeat for his new club. Ahead of this weekend's rematch, this time at Anfield, his development has become clear.
The 23-year-old is answering his critics. Questions surrounded the £12million fee Liverpool paid to Chelsea in this winter's transfer window while there were also doubts based on inaccurate assumptions regarding a spikey attitude, selfish nature on the pitch, and an overreliance on his left foot.
But 12 goals in 16 Premier League appearances for Liverpool is validation in itself. It has ensured the 10-game ban of Luis Suarez has not proved too much of a handicap on the pitch while the manner in which Sturridge has embraced the team-spirit mantra of manager Brendan Rodgers has also been a huge positive.
| | | | |
| --- | --- | --- | --- |
| Daniel Sturridge, Premier League - Liverpool |   |   |   |
| Season | 2013/14 | 2012/13 | Liverpool Career |
| Appearances | 2 | 14 | 16 |
| Starts | 2 | 11 | 13 |
| Minutes Played | 180 | 1092 | 1272 |
| Goals Scored | 2 | 10 | 12 |
| Minutes per Goal | 90 | 109.2 | 106 |
| Shots On Target | 4 | 28 | 32 |
| Shots Off Target | 3 | 25 | 28 |
Sturridge has particularly made a flying start to this season after scoring four goals in three games. Not only that, they have been important, decisive goals, including winners over Stoke City and Villa - which first demonstrated his clinical finishing from long range and then showcased his quick feet inside the penalty area. In the midweek Capital One Cup win over Notts County, he scored twice.
His goals - including against former club Chelsea last season - have been a key factor in Liverpool's current run, which dates back to the past campaign, of having lost just once in all competitions in 16 games. And Carragher this week explained of Sturridge: "He came in in January and was a breath of fresh air for Liverpool. He was exactly what we needed. You saw in that first game at Old Trafford, he was there and he and Suarez looked like a partnership.
"Now Suarez is out, at the back end of last season and start of this season, people were talking, 'Can he [Sturridge] replace Suarez?'. Liverpool are unbeaten in the last 10 games and Suarez has played in five or six. It is down to this fella' [Sturridge] getting the goals. For me, he is now showing everyone. He just needed a chance."
That opportunity to play as a main striker, which Sturridge was largely denied at Chelsea - where he was pushed out to the right flank, appears to be the key. Having been given the backing of Rodgers, he has eclipsed the Premier League goalscoring of his fellow strikers in Roy Hodgson's current England squad, Jermain Defoe (one), Danny Welbeck (two), Wayne Rooney (five) and Rickie Lambert (eight), in 2013.
England strikers Premier League record in 2013
 
 
 
Player
Appearances
Starts
Goals
Jermain Defoe
16
8
1
Rickie Lambert
21
20
8
Wayne Rooney
15
11
5
Danny Welbeck
15
8
2
Sturridge's start to the new campaign is all the more noteworthy when it is remembered he did not have a proper pre-season as a result of the ankle injury he suffered while playing for England against Republic of Ireland at the end of May. It is a reflection of his high level of natural fitness, which, ironically, has been honed over the years from playing in his less favoured wide areas.
In March 2012, Sturridge himself said: "Fitness-wise, it helps you so much playing on the wing, as it is a completely different job. You do a lot more runs than you do up front. Thierry Henry played wide for Juventus and then went to Arsenal and played as a centre-forward."
But fitness is just a part of the overall football ability which Birmingham-born Sturridge - a nephew of former Derby County star Dean Sturridge - has always possessed since the very early years of his career.
After a spell with hometown club Aston Villa and a year at Coventry City, he joined Manchester City's Academy as a 13-year-old in 2003. In 2004, he was voted Manchester City's Player of the Season and was their leading scoring as they won the Nike Cup, the world's largest Under 15 tournament.
Sturridge would also score goals in the FA Youth Cup final for Manchester City in 2006 as they suffered a narrow defeat by Liverpool over two legs before then signing a professional contract. He would make his first-team debut in 2007.
The 2007/08 season was then one to remember as he scored his maiden first-team goal in an FA Cup tie against Sheffield United closely followed by his first league goal versus Derby. Another goal in an FA Youth Cup final - this time in the first leg as City went on to defeat Chelsea - meant Sturridge was a record-breaker as the first player to score in the Youth Cup, FA Cup and Premier League in the same campaign.
Sturridge joined Chelsea in July 2009, when a transfer tribunal was required to settle the deal with Manchester City. But he was a frustrating figure in his time at Stamford Bridge, despite an impressive loan spell at Bolton, which began in January 2011, when he scored eight goals in 12 games.
He returned to Chelsea for 2011/12 hoping to become a main striker but manager Andre Villas-Boas and eventual successors Roberto Di Matteo and Rafa Benitez all had other ideas in pushing the left-footer out to the right wing.
Although he scored twice for Great Britain as their main striker in the following summer at the 2012 London Olympics having suffered from suspected viral meningitis in the build-up, Sturridge also failed to overly convince in the Games. He memorably fluffed the losing penalty in the quarter-final shoot-out defeat by South Korea.
But Liverpool and Rodgers, having monitored Sturridge's career from afar, decided to pay big money this January in the confidence they could give him the spotlight in which his potential thrived.
Indeed, Rodgers said at the time of the signing: "I have known Daniel since he was 12 at Coventry and then coming through the ranks at Manchester City. He can score, he has pace and power. He is also hungry, and what we need at Liverpool is players hungry to do well. He recognises this might be his chance at a big club and he has to produce. I am looking forward to working with him."
It does, of course, remain early in Sturridge's career, he is probably still too dependent on his left foot, and there is time for a blip in form. But he is certainly currently producing as requested by Rodgers. The ease and speed with which he has struck up a connection with his Liverpool team-mates is nothing short of phenomenal.
Two goals in last season's 6-0 humiliation of Newcastle United at St James' Park and also a hat-trick in the win at Fulham have been particular highlights. But, at the same time, both those games came while Suarez was suspended to suggest the pair may struggle to work in tandem when the Uruguayan returns.
Sturridge and fellow January signing, Brazilian playmaker Coutinho, clearly relish playing together in Suarez's absence as witnessed in the way they linked up for the former's first goal at Newcastle. But Sturridge and Suarez in fact also work well as a pair and that was evident in the manner in which they assisted each other for goals in the 2-2 draw against Chelsea at Anfield.
If, as appears to be the case, Suarez does not leave before the transfer deadline, the challenge for Rodgers will be to fit the controversial South American, Sturridge and Countinho into the same team when the former returns from his ban, which was incurred after that Chelsea game, at the end of September.
There is a case to argue that Sturridge's shooting accuracy of better than 50 per cent since joining Liverpool gives him the right to be the main striker with Suarez and Coutinho playing in behind as supporting roles. This could also give Suarez even greater freedom to do his talking with his football skill in a deeper role.
But, in Sturridge, Liverpool undoubtedly have a major weapon in their armoury as they prepare to face old rivals United. If he continues to show his goalscoring talent, works hard and remains focused, he can become the main man for Liverpool and England.
Liverpool versus Manchester United is live on Sky Sports 1 HD and 3D on Sunday at 12.30pm