Internacional have not been in contact with Liverpool about striker Leandro Damiao
Internacional president Giovanni Luigi has denied reports Liverpool have made an approach for striker Leandro Damiao.
By Paulo Freitas
Last Updated: 31/08/13 11:22am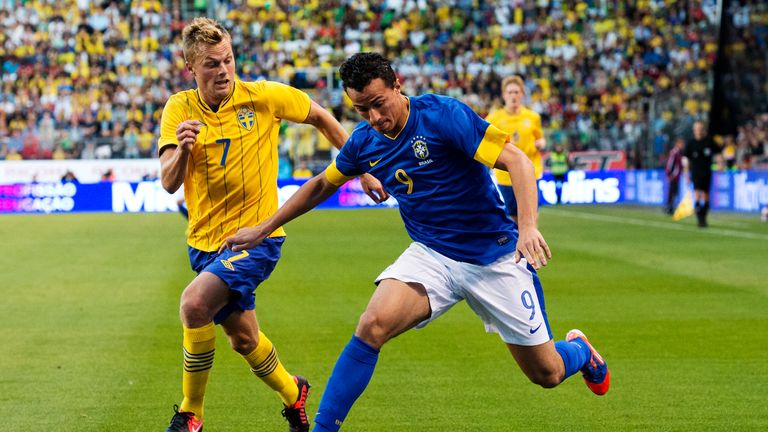 Damiao has been linked with a move to Tottenham repeatedly over the past couple of years, but it appears Andre Villas-Boas has ended his interest in the Brazil international.
Recent speculation has claimed that Liverpool were considering a move for Damiao in case Luis Suarez left Anfield, and also as an alternative to Willian, who has joined Chelsea.
However, Luigi stated that there has been no contact from the Premier League club and he is not expecting Damiao to leave before the transfer deadline.
"There is nothing," Luigi told Zero Hora. "Liverpool never made any offer, and I have never received a phone call from them.
"I don't even know if they could afford to sign Leandro Damiao.
"The Zenit [St Petersburg] story was strong some time ago, but later they never talked about Leandro Damiao. Tottenham talked with me on January 30 and 31, then never again."
International's director of football Luis Cesar Souto de Moura added to Esporte Interativo about Liverpool and Damiao: "They didn't make an offer, nothing has come from England, not even inquiries.
"We intend to keep the player, we understand he increases the team's quality."
Zero Hora has also quoted current Liverpool midfielder Lucas Leiva as saying he is unaware of any plans for his compatriot to join him at Anfield.
Lucas said: "I always know when there is something regarding any Brazilian player, but I have heard nothing at this time."