Liverpool boss Brendan Rodgers managing Steven Gerrard's long-term fitness
Liverpool boss Brendan Rodgers has revealed how he has managed Steven Gerrard's fitness to keep him in top condition.
Last Updated: 13/09/13 11:16am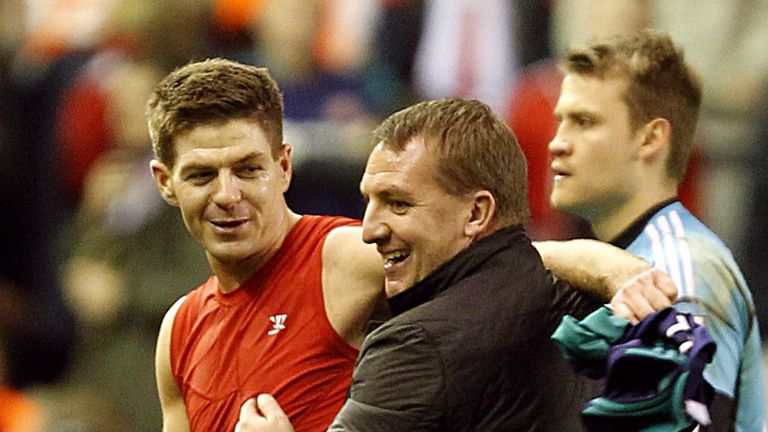 Gerrard, who is set to captain Liverpool for the 400th time in Monday's game at Swansea City, has been a virtual ever-present for Rodgers since he took over at Anfield last summer and he has been able to cope with the demands of playing for club and country so far in a busy start to the season.
The 33-year-old has been given a routine tailored to ensure he can his extend his playing career well into his 30s.
"You need to analyse the people and what age he is at and the body type he is," explained Rodgers.
"One of the biggest things in our method of work is the recovery method. Stevie for example plays on the Saturday, recovers on the Sunday doing pulls, stretch and massage, on the Tuesday recovers further with maybe a light jog. It's a long load of low intensity recovery. Stevie was fit enough to play Saturday, Tuesday and Sunday at the start of this season.
"He has moderate to low intensity recovery programmes. We have individual plans for every player in terms of getting them through the games."
Rodgers says he is happy to give his skipper time off where and when necessary because he knows he will be doing everything correctly to prepare for fixtures.
"It depends if you are a dogmatic coach and you think you always have to have the player out there," added Rodgers.
"Given the culture we have created here, the players want to be out training every day.
"Sometimes with the recovery, they'll feel they want to do a bit more. But the numbers have shown since we have come here that the methodology of our work physically, technically and tactically helps them on game day.
"They have bought into that and it's something they enjoy. As a manager it's your job to orchestrate and oversee that, that's why when I came in here I needed to bring my own people in as they know exactly what I think in terms of the whole holistic approach to the players."