Brendan Rodgers has defended Daniel Sturridge after his England withdrawal
Liverpool manager Brendan Rodgers dismisses Daniel Sturridge club-versus-country controversy.
Last Updated: 14/09/13 8:39am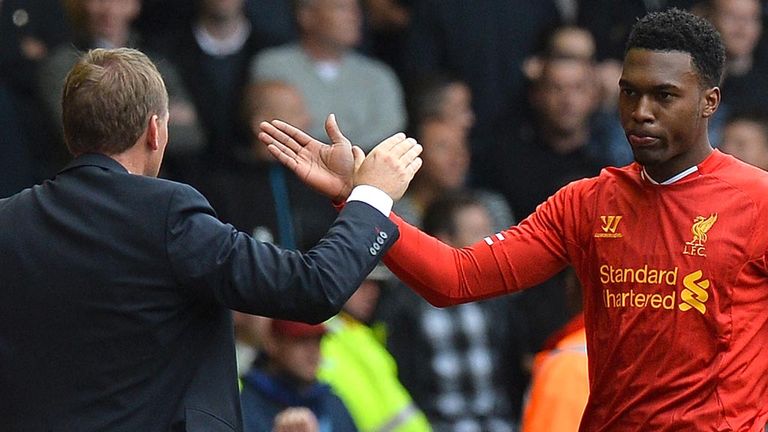 Sturridge suffered a thigh strain in Liverpool's last league game, a 1-0 victory over Manchester United which put them top of the Premier League after three matches.
And Rodgers has defended Sturridge, who has come under-fire on Twitter over the withdrawal, as he prepares to include the striker in the Liverpool squad for the visit to Swansea on Monday night.
"He was obviously disappointed to miss out on the England games. He wanted to play for England and I felt sorry for him," said Rodgers.
"The medical experts made the decision, not Daniel Sturridge.
"He left the Manchester United game (on September 1) injured and went away and the medical staff at England deemed him not quite fit enough for the first game and they were perfectly happy he was not going to play.
"He returned and there was a slight improvement but Roy (Hodgson) and his staff have to make a decision if he's going to be available (for the second match in Ukraine) and at that stage he wasn't.
"But by the time we play on Monday it will be nearly two weeks and for a grade one strain, experts who know better than I do say it is perfectly reasonable to be back playing in that timescale.
"But he should not be held up, if he does play on Monday, as being someone who has turned down his country because that is not the case at all."
Sturridge was named as Premier League player of the month for August after scoring the winning goal for Liverpool in each of the club's opening three games this season.
Rodgers is pleased with the striker's progress and backed Sturridge to improve and continue his impressive form.
"At this stage of his career, aged 24, he has all the things to his game to be a top striker," said Rodgers.