Brendan Rodgers says there is no 'main man' at Liverpool
Liverpool boss Brendan Rodgers believes there is no 'main man' in his squad, as Luis Suarez edges closer to a return.
Last Updated: 15/09/13 7:28pm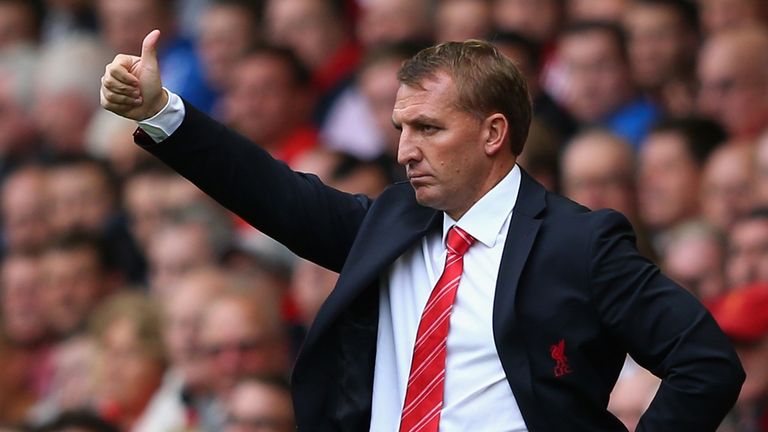 The striker has two more games remaining on his 10-match ban, but team-mate Daniel Sturridge has taken the plaudits so far this season, scoring the winner in each of Liverpool's opening three games.
Although Sturridge's fine form has helped to ease the absence of the talismanic Uruguay international, Rodgers says he is more concerned about the bigger picture.
"Neither Luis or Daniel will be the main man. This isn't the type of club for egos. It's a club where players get told where to play," he is quoted in the Sunday Mirror.
"We don't mollycoddle them here. They are all expected to come in and do a job.
"If they want to be the superstar, if they want to be the individual, then they can go elsewhere. It's about the team here. We know what strikers are like, but I don't think it's an issue with either Daniel or Luis.
"People were talking about Suarez making us a one-man team last year and I kept saying that wasn't true. Luis himself didn't think like that and when he comes back, we've got another world-class player to fit in the team."
Sturridge has impressed since making the switch from Chelsea in January, leading Rodgers to hail the professionalism of the 24-year old.
"Daniel has been excellent since he came here. He's scored 16 goals in 20 games, but he also knows it's about the team," he said.
"He has this myth about him that he is arrogant, a difficult boy, but he is actually one of the nicest boys I've met. When he was at Man City he was a top young talent, the best number nine in European football as a young player.
"He loved everything about the city and he wanted to be a hero there, but then they got all the money and he didn't get a chance.
"So he went to Chelsea, scoring loads of goals in training and in practice games, but not getting a chance there either.
"I told him when he came here that I needed him to commit himself to the cause and that we would make him the best he can be. He understands that he is the king of his destiny."