Brendan Rodgers rues Philippe Coutinho injury in Liverpool's 2-2 draw at Swansea
Brendan Rodgers felt the injury to Philippe Coutinho in the second half disrupted Liverpool in the draw at Swansea.
Last Updated: 17/09/13 4:58pm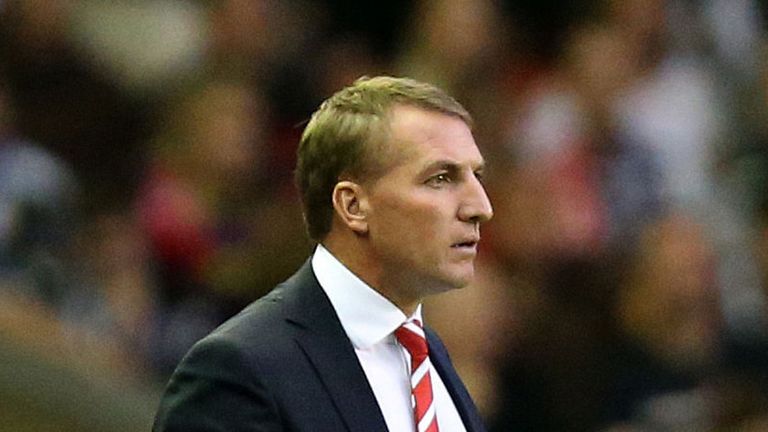 Liverpool recovered from conceding an early goal to take the lead through first-half strikes from Daniel Sturridge and Victor Moses.
However, Coutinho was forced off 10 minutes after half-time after being caught by a waist-high challenge from Ashley Williams and he appeared to land awkwardly on his shoulder.
Within 10 minutes, Swansea had levelled through Michu and Rodgers believes Coutinho's departure was a key moment in the game.
"It was a very good game to watch on TV," Rodgers told Sky Sports.
"I thought the assessment was simple. In the first 65 minutes, we were very good, both with and without the ball, and we looked really in control for that first 25 minutes.
"We showed great character to come from behind so early on in the game, but probably young Coutinho going off disrupted the flow of our game.
"Then they get the second goal, which we can defend better on, and the last 20, 25 minutes, they've got the momentum, and we had to show resilience and character."
Regarding the challenge on Coutinho, Rodgers said: "I haven't seen the tackle. He's very sore in the changing room, and we're hoping it will only be bruising."
Former Liverpool midfielder Jonjo Shelvey had given Swansea a second-minute lead before two misplaced passes allowed Sturridge and Moses to score.
On an eventful night, Shelvey then set up Michu for the equaliser, but Rodgers remains convinced he made the right decision in allowing the England international to join Swansea in the summer.
The Liverpool boss said: "It's nights like this why Jonjo came to Swansea. He's a very, very good young player and he showed that with the first goal.
"We didn't really want him to go, and I'm sure he didn't want to go, but we knew it was in the best interests of a young player to go and play.
"He's a terrific young player. He got caught out a couple of times, which led to our goals, but he'll be better for the experience and he'll develop into a very good player."