Premier League: Liverpool boss Brendan Rodgers backs out-of-form Iago Aspas to shine
Liverpool boss Brendan Rodgers has reiterated his faith in Iago Aspas, despite substituting the striker at half-time.
Last Updated: 23/09/13 4:35pm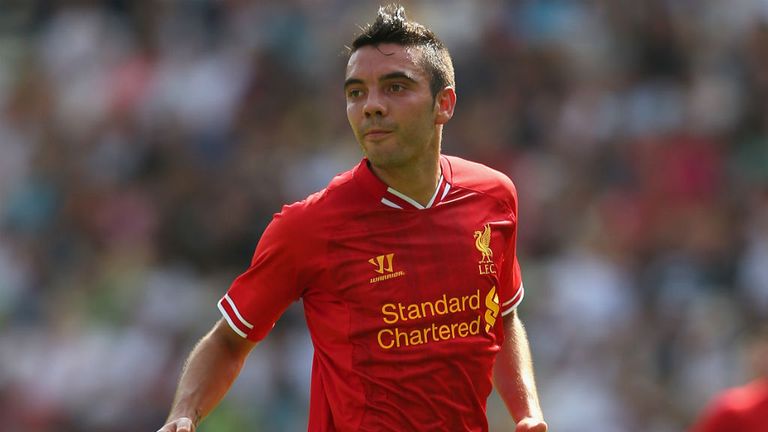 Aspas was withdrawn at the interval on Saturday as he struggled to make an impact in a game which saw the Reds lose 1-0 to Southampton at Anfield.
An injury to Philippe Coutinho in Monday's clash against Swansea City paved the way for 26-year-old Aspas to return to the starting XI, but the summer signing from Celta Vigo endured an ineffective first 45 before being replaced by Raheem Sterling.
However, Rodgers believes the Spaniard is not far away from finding the back of the net.
"There's no doubt it's been difficult," Rodgers told the Liverpool Echo. "When you are the player who scores goals you want that goal to give you that confidence and obviously he hasn't got that yet.
"It was difficult for him to get in the game. We flipped it about a bit in the first half in triangles to try and get him on the ball a bit more. He'll continue to work hard.
"Iago is a good boy, and honest boy and he's obviously been thrown in a bit quicker than he's had to have been.
Lethargic
"But he's a good guy, he's working hard and trying his best so hopefully over time he'll get his goals and make the impact we think he can."
Aspas was not alone in having a disappointing performance against Southampton, with a number of below-par contributions forming an insipid display from Liverpool.
The Reds' unbeaten start to the season came to a crashing halt at the weekend and Rodgers could not hide his frustration in the aftermath.
"I think it was hard because across the board I felt we were flat," he added. "I think it's something that we would hope now gets a response out of the players.
"Saturday will hurt. But we'll reflect on the game, put it behind us and move on.
"We never really got going from the off - it was a bit lethargic and technically we were short, so it was a very disappointing result and performance for us.
"It hasn't been like us. We've normally started games very well. But we'll just put it down as one of those days and now we need to go on another good run."