Moses exclusive
"Luis will go out there and score goals. That is what he loves to do" - Victor Moses tells Sky Sports about Suarez's return, that bite, Liverpool's plans to silence Old Trafford, and a World Cup dream
By Peter Fraser - Follow me on Twitter @SkySportsPeteF
Last Updated: 25/09/13 10:53am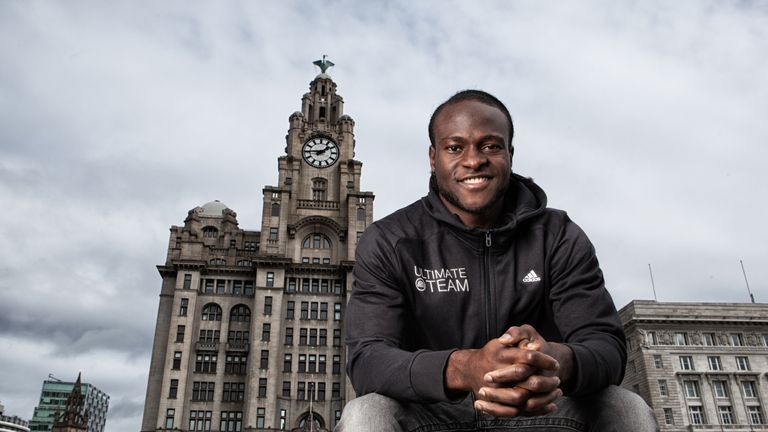 Victor Moses is in a unique position in Liverpool's squad. The on-loan winger was at Chelsea last season which meant he was an opposition player on the day of Luis Suarez's infamous and shocking bite on Branislav Ivanovic.
Moses was an 83rd minute substitute in the game at Anfield, which ended in a 2-2 draw as Suarez scored a late injury-time equaliser, and so he was on the bench at the time of the 65th minute incident. But there was no escaping the resulting fallout, which stunned the football world.
Uruguay international Suarez was handed a 10-match ban by the Football Association and has consequently not played competitively for his club since 21st April. However, in Wednesday's Capital One Cup third round game at Liverpool's bitter rivals, Manchester United, which can be seen live on Sky Sports 1HD from 7pm, he will again be available for selection for the first time in more than 150 days.
For Moses, it might be a slightly strange situation to now be at Liverpool after his transfer deadline day loan having experienced the Chelsea reaction to Suarez's inexcusable bite on Ivanovic. But the 22-year-old insists there is no grudge with his new club-mate after getting to know him in training over recent weeks.
Asked for his impression of Suarez since joining Liverpool and whether he had held any preconceptions of the South American, Moses told Sky Sports in an exclusive interview: "He has been a great player. As we all know, he is a top striker. Even when he has been training, he has been working hard, because he knows that he is coming back. We have really missed him. He is going to be a big factor for us in winning games. We will be relying on him to score goals. He is always a goalscorer. It is good for us that Luis Suarez is back.
"He is a great lad. I have spoken to him every day. We always say hello to each other in the morning and train together. He is a great lad and I have really enjoyed playing alongside him in training."
Liverpool had a win percentage of 64.7% in 17 Premier League games without Suarez before the weekend defeat by Southampton since he first arrived at the club compared to 39% in 77 games with the forward. But last season's second top goalscorer in the Premier League will obviously be a welcome return. He has been maintaining match fitness by playing in friendlies for his club's Academy side and scoring goals for Uruguay. His club manager, Brendan Rodgers, has said the forward has been 'working his socks off' and, ironically, is 'champing at the bit' to play.
The £22.8million January 2011 signing from Ajax, who - it should not be forgotten - spent this summer attempting to engineer a transfer away from Liverpool, has seemingly impressed with his attitude during training. But how did Moses react at the time of Suarez's bite on Ivanovic and did Suarez go to say sorry at the time?
"I was just concentrating on the game, really," said Moses "After the game, when I saw that he [Suarez] had bitten Ivanovic, he [Suarez] knew that was a mistake. But that is football. Stuff like that happens and we have to move on as professional footballers.
"He definitely apologised to Ivanovic. That is what happens as a footballer. Sometimes you get a little bit angry and react in a way you should not. But you move on as a professional footballer."
Suarez also has previous with United. Part of those games he has missed for Liverpool have been due to the eight-match ban he received in 2011 for racially abusing Patrice Evra. He is a figure of hate at Old Trafford and will be guaranteed a fierce reception if he plays on Wednesday. It will be additional scrutiny and pressure but Nigeria international Moses is backing his colleague to deal with the attention.
"He will go out there and do his thing," said Moses. "Luis will go out there and score goals. That is what he loves to do. Hopefully he can do that for us on Wednesday."
The Suarez factor will only stoke the rivalry with United, who are fierce foes of Liverpool due to their North West proximity and years of footballing battles on the field. Liverpool already have the bragging rights after a 1-0 win over David Moyes' United at Anfield in the league at the start of September and so their hosts will also be out for revenge. United also need to bounce back from the derby humiliation at the hands of Manchester City at the weekend.
Moses is aware of the intensity of the rivalry. He viewed Liverpool's most recent win over United from the Anfield stands before signing and has also watched many battles as a neutral over the years. He is now hoping for another night to remember on Wednesday.
"It is a massive rivalry between two great sides," he said. "We are looking forward to it at the same time. It is not going to be an easy game for us but we will do our best to make sure we get the win.
"Whenever United play Liverpool, it is always a massive game which anyone in the world would like to watch. Now I am a Liverpool player, you have to look forward to it and hopefully we can win the game."
Moses could also be a lucky charm for Liverpool following an impressive record at Old Trafford with Chelsea. He was a starter in both games last season as the London club earned a draw in the FA Cup in March and won in the Premier League in May.
And Moses is again hoping to silence the more than 75,000 capacity at the Theatre of Dreams, as he said: "It is always a good feeling to go out at Old Trafford and win games. But it is not easy to go there and win any game. United have a great record at Old Trafford. If we can go there and beat them, it would be one of the best feelings in any footballer's career."
Meanwhile, Moses is loving life at Liverpool. Having found himself out of the plans of new Chelsea boss Jose Mourinho, he jumped at the chance to move to Merseyside. He went straight into Liverpool's starting XI for the 2-2 draw at Swansea in which he marked his debut with a goal. But, in contrast, he has since suffered the shock defeat by Southampton in his Anfield debut.
First-team football was the target for Moses in moving to Liverpool, particularly in a World Cup season. Having opted to play for Nigeria after representing England at various age groups, next summer's World Cup finals are within reach.
Having avoided defeat in three wins and three draws in the group stage of the African zone of qualifying, Nigeria are preparing for the knockout final round. If they can beat Ethiopia in a two-legged play-off to be played on 11th October and 15th November, they will become one of the five African teams to qualify for Brazil.
And Moses said of Nigeria: "We are doing great at the moment. We are still unbeaten and want to keep the momentum. We have got the play-offs coming up. If we can beat Ethiopia home and away, that would be a great achievement for us. I have never played in a World Cup before so if we qualify for next year, especially with it being in Brazil, it would be a dream come true."
Victor Moses appears in EA SPORTS FIFA 14, out on September 27th. Pre-order the FIFA 14 Ultimate Edition on Xbox 360 and PS3 from amazon.co.uk to receive 24 FIFA Ultimate Team Gold Packs and EA SPORTS Football Club Unlockables