Luis Suarez pledges to help Liverpool challenge for titles
Luis Suarez has pledged to give everything for Liverpool just two months after he appeared determined to leave.
Last Updated: 26/09/13 11:36am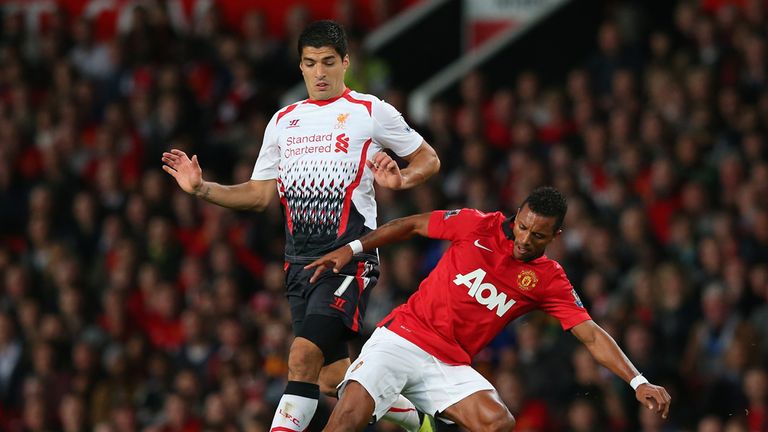 The striker made his long-awaited return from a 10-match ban for biting Branislav Ivanovic, but he looked understandably rusty in the 1-0 Capital One Cup defeat to Manchester United.
But Suarez looked fully committed on the pitch in contrast to his attitude last month, when Arsenal attempted to trigger a release clause in his contract with an audacious bid of £40,000,001.
Suarez then appeared at loggerheads with manager Brendan Rodgers, who he claimed reneged on a deal to allow him to leave for a side in the Champions League.
But Liverpool managed to keep hold of their star striker until the transfer window closed, and Suarez now insists he is fully committed to helping the Anfield club challenge for silverware.
Suarez told liverpoolfc.com: "The result is not good because we lost but the feeling is good because we played very well, we created chances and we missed.
"I know it was a difficult moment but for myself and for the team it's very important I'm back because I can help the team and [being] off the pitch I can't.
"We'll keep going for the week and for the next game.
"All the time I try my best on the pitch. I'm here to help the team and help Liverpool and I'll try my best."
Manager Brendan Rodgers has no doubt it will not take Suarez long to get back among the goals.
"Considering he had been out for such a long time he ran himself into the ground, he was always a threat, he put defenders on the back foot with a couple of twists and as he goes on he will get a bit sharper.
"Overall he can be really pleased and I was really happy for him because his contribution was brilliant.
"He has worked very hard. He obviously tired a bit towards the end but the only way he is going to get that (fitness) is playing in games.
"But even in the last moments of the game he can still create, distract defenders and open up the space."
Rodgers also saw it as an opportunity for the 26-year-old to repay the fans after a testing few months in which he tried to manufacture a summer transfer.
"The support they have given him is unheralded. They were brilliant towards him, he has given them everything," he said.
"He was clapping to the crowd before the match started so he recognises everything they have given him.
"Now he has got to get his head down and give them that great talent he has and hopefully it will end up in goals for him."