Three and easy
Sam Drury looks at the 3-4-1-2 formation used by Brendan Rodgers at Old Trafford, how it suits the Reds squad and whether the Northern Irishman will consider it a long term solution for Liverpool
Last Updated: 27/09/13 3:48pm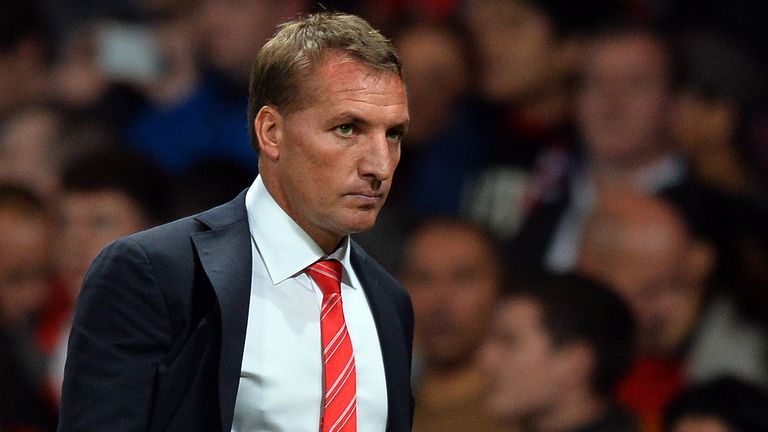 A 1-0 defeat to your biggest rivals in the cup is not something any manager enjoys.
However, despite losing at Old Trafford on Wednesday night, Liverpool manager Brendan Rodgers could be forgiven for being slightly more upbeat than most as his side prepare to face manager-less Sunderland on Sunday.
The return of Luis Suarez was undoubtedly a huge boost for Liverpool and, while the Uruguayan looked sharp on his comeback, equally encouraging was the way in which the Anfield side adapted to a new three at the back formation.
Rodgers was widely criticised for his decision to field four centre-backs in the home loss to Southampton on Saturday and responded by sending his players out in a 3-4-1-2 formation in Manchester.
With Daniel Agger struggling with a rib injury, Kolo Toure, Martin Skrtel and Mamadou Sakho made up the back three with Jordan Henderson and Jose Enrique deployed as wingbacks.
Steven Gerrard and Lucas Leiva continued in the middle of midfield with loanee Victor Moses providing the link between midfield and a front two of Suarez and Daniel Sturridge.
The Liverpool manager admitted the formation was forced upon him slightly due to injuries but he felt his side could use the system again.
"If we had to play that system again for a period of time until players are fit then, we obviously need to work more on it but it's something that you can see the players are comfortable in," Rodgers said.
"It gives us three players to dominate midfield, gives us the two strikers up front that are arguably up there with the top strikers in the league, and it still keeps us secure at the back. If we need to play it again, I think we can play it well."
Defensively, Liverpool looked solid and they restricted David Moyes' team to few chances of note.
Toure has been superb since arriving from Manchester City whilst Sakho has shown himself to be a strong and aggressive defender.
The duo would seem to be at the top of the central defensive pecking order and either Skrtel or Agger are capable of fitting in alongside them to complete an impressive looking back line, on paper.
The fact that an extra centre-back gives goalkeeper Simon Mignolet another option to play short, and therefore lessens the need for Liverpool to rely on his inconsistent distribution, is one reason the system may well be retained.
Meanwhile, the back three also played a useful part in helping the likes of Gerrard and Lucas to recycle possession - an important aspect of how Rodgers likes his sides to play.
Midfield has been a worry for Liverpool so far this season with the fitness of Gerrard and Lucas after an hour's play one of the main concerns. The formation obviously cannot help that too much but it may be able to help reduce the gap between the midfield and the attack.
With an extra defender behind them, the central midfield pair should be able to push forward further to close down the opposition and in turn get closer to the 'number 10' and the forwards when Liverpool have possession.
The pace of the likes of Toure and Sakho should also mean they can play a higher defensive line so as to avoid too much space in between them and the midfield.
Arguably, the main advantage of the system, though, is that it allows both Sturridge and Suarez to play in their favoured central positions. The interchanges between the two were promising and, with Moses joining in, there were a number of nearly moments against United.
With a bit more time working together in training and a little luck, things may click and those moments may lead to chances and, with Suarez and Sturridge on the end of them, goals. Certainly, keeping that trio quiet will be key if Sunderland hope to get anything from the weekend's game.
Another big positive for Rodgers is that the system would also appear to suit some of his players currently sidelined due to injury.
Glen Johnson looks tailor-made for the right wingback role and his return would allow Henderson to compete for one of the central midfield positions.
Aly Cissokho is likely to make Enrique work extremely hard if he is to nail down the left wingback spot whilst Agger, as already mentioned, could undoubtedly slot in as the central or left-sided centre-back.
Most mouth-wateringly for Liverpool fans, though, is surely the thought of Philippe Coutinho pulling the strings behind Suarez and Sturridge.
Moses did well at Old Trafford but the Brazilian is an altogether different prospect. His creativity, vision and flair make him a nightmare for any defence to try and deal with and should help to provide the Liverpool strikers with countless opportunities throughout the season.
Indeed, 3-4-1-2 looks to be the most suitable formation for the Anfield club at present as well as when Rodgers is able to call on his full complement of players.
Ultimately, Liverpool fans are never going to be happy after a defeat by Manchester United but the return of Suarez and the discovery of a new formation worth persevering with means there are plenty of reasons for optimism heading into their Super Sunday clash at the Stadium of Light.