Premier League: Simon Mignolet had no Paolo Di Canioproblem
Simon Mignolet is relishing his return to Sunderland and insists he never had a problem with Paolo Di Canio.
Last Updated: 28/09/13 2:59pm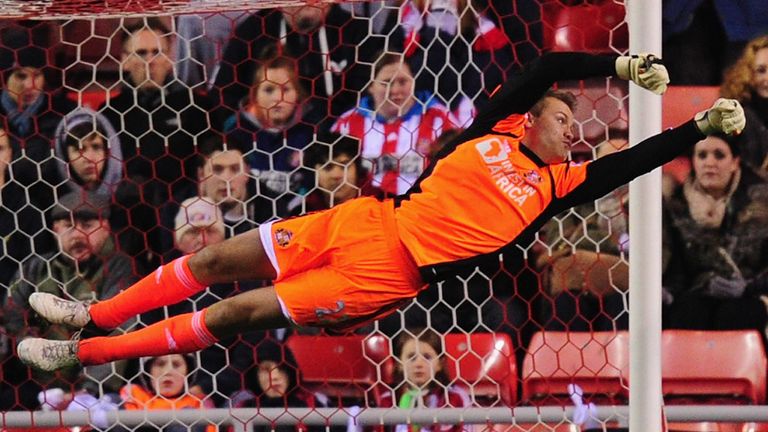 Mignolet left the Black Cats for Liverpool this summer and his former team-mates have since struggled, picking up just one point from their opening five Premier League games to sit bottom of the table.
Di Canio was sacked following the latest loss after some of the club's senior players went above the Italian's head to express their concerns about his management style, but Mignolet insists he never had a problem with his former boss.
He told the Daily Mirror: "I had a good relationship with him. I never had a bust-up and I haven't heard too much of what has happened since and it is not my business any more.
"You go with the new manager and try your best, like I have always done. So for me he was a good manager to work with."
Di Canio took over from Martin O'Neil last term and had an immediate impact, helping the relegation-threatened Black Cats avoid the drop, and Mignolet believes the Sunderland hierarchy will be hoping for a similar response from a new boss this time.
Observed
Mignolet recalled: "When he first came, the first two weeks he observed a lot and looked at what was happening around the place. With every manager who comes in, after a couple of days observing he is going to change a few little things here and there.
"That's what he did in the first few weeks and we had two massive results against Newcastle and Everton. Those results got ourselves safe for the next season and, after that, he brought in his own style.
"But if a new manager comes in, then every single player inside that dressing room wants to perform well and show what they are capable of. When a Premier League team sack their manager, it is for that kind of response."
The Liverpool keeper feels for the Black Cats and the current predicament they are in.
"I wasn't thinking 'thank God I'm out of there', you think about the people who are there," he said.
Struggling
"You know what it is to be struggling like that. We were fighting relegation last season and I know how the place is when you get beat.
"It's not really a nice place to come out and get yourself up for training again the next day, so you feel for the lads.
"And also for the people around the place. If you're a masseur or a physio and it goes against you, then it's not a nice environment to be in because everybody is thinking about results."
Mignolet hopes he will get a good reception from the Sunderland fans, adding: "I cannot thank them enough for the support I had.
"When we played West Brom I made an error that probably cost us the game but they started clapping and singing my name. I won't forget that."