Liverpool manager Brendan Rodgers pays tribute to versatile Jordan Henderson
Liverpool manager Brendan Rodgers has revealed his delight at Jordan Henderson's progress over the last year.
Last Updated: 03/10/13 5:32pm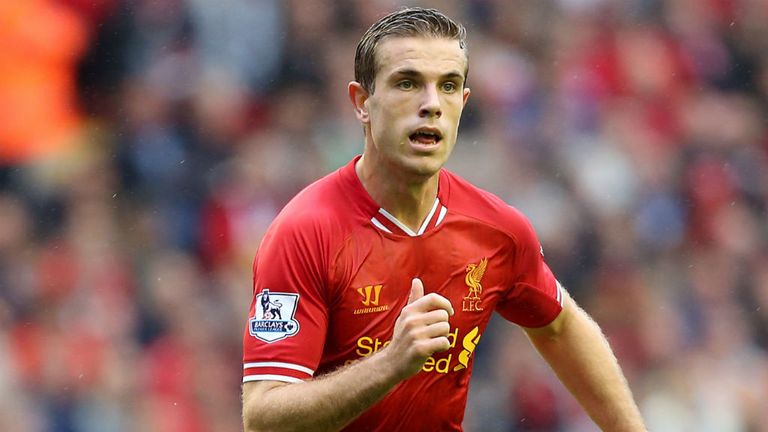 The 23-year-old was told he had been offered to Fulham at the end of the 2012 summer transfer window as part of Rodgers' attempt to sign Clint Dempsey.
But he rejected the move and has since proved a versatile option for the Reds, capable of playing anywhere in midfield or as a wing-back.
He has played every minute of Liverpool's Premier League games this season, and Rodgers said: "I've been so impressed since I've been here, Jordan has become better and better.
"His level, tactically, is very good. He's one that wants to improve all the time. If I didn't think he could play the role and function in the roles properly I wouldn't put him there so it's great credit to him.
"At the end of last season, he played as a false winger from the left, coming inside and got goals. He played his first season here wide on the right. He's played as a wing-back, wide in a midfield four.
"In all the systems, what you get from him is a work-rate and a mentality and Jordan has got quality. I don't see it as a hindrance for him, I see it only as a positive. I know he's really enjoying playing.
"Wherever he plays there's no drop-off - you still get the same. He's one of those players that you could play him at right-back, which I've done sometimes, and he's got forward well.
"He's a really good young footballer whose understanding of the game is improving all the time. That allows him to play in a number of different positions."
Henderson could be switched to his preferred central midfield to cover for the suspended Lucas Leiva against Crystal Palace on Saturday, and Rodgers warns he may have to curb his natural enthusiasm.
"It is about making the players aware there is a responsibility tactically," he added. "Whoever plays in there has to understand the dynamic of what is required and they may have to curtail their game a little bit.
"If you move freely and empty that space it leaves it too open. Our movement and fluidity in the other half of the field is getting better but you have to make sure you have that tactical discipline and whoever plays in there will have to have a similar function."