Liverpool manager Brendan Rodgers praises England striker Daniel Sturridge
Brendan Rodgers believes Daniel Sturridge has all the attributes to become one of Europe's top strikers.
Last Updated: 08/10/13 1:56pm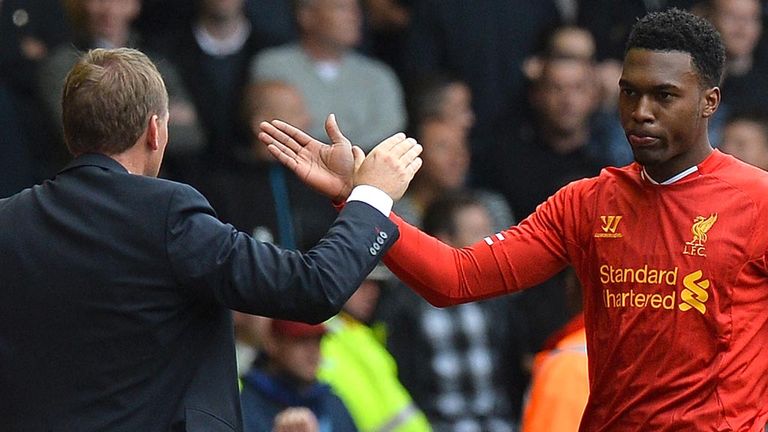 The 24-year-old has scored 19 goals in 25 appearances since moving to Anfield from Chelsea in January but Rodgers has no doubts he is now on an upward path.
"He's got a great touch, is very strong on his left side and his right side, he's got super pace - once he's away, he's away, you're not catching him," Rodgers told the club website.
"He's clever in his movement and his runs, he's a good footballer; he drops into spaces, picks up the ball, sets the game, spins. He's also got an eye for goal.
"The area that he's looking to improve on is his heading, as he showed last week away at Sunderland. He's a boy who I still think there's a lot of improvement to make.
"When he does, I think he can prove to be one of the top strikers in European football."
Sturridge suffered an ankle injury in a friendly against the Republic of Ireland in May and he missed England's World Cup qualifying double-header in September with a thigh problem.
"He literally only joined in the last week or so of pre-season," Rodgers added.
"To have missed out on pre-season, just come back with 10 days to go and play how he has done so far without a lot of rest has been remarkable.
"When he gets up to real fitness in a few games' time, he will become even better."
Meanwhile, Rodgers has sought to defend Jose Enrique, who has come in for some criticism for his performances this season.
"Jose has been playing with a little bit of an injury, but he's still been showing his determination and pride for the team," Rodgers told the Echo.
"The great thing is that Jose is always working at his game. He appraises himself honestly when we have chats. He's one who is looking to improve his game and his passing.
"There's no doubt that on his day he's one of the best in that position in this country."