Premier League: Ian Ayre admits Luis Suarez and Daniel Sturridge are key to Liverpool
Liverpool managing director Ian Ayre says Daniel Sturridge and Luis Suarez could hold the key to a successful season.
By Dev Trehan
Last Updated: 10/10/13 4:08pm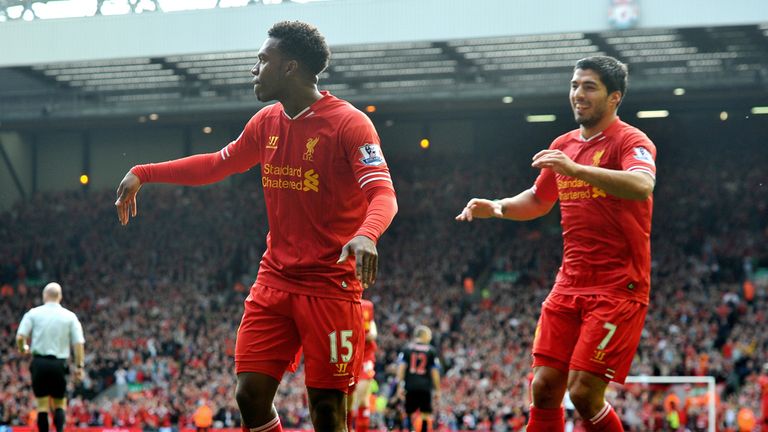 Sturridge has scored 14 goals in his last 14 outings for the club, whilst Suarez has wasted no time following his return from a 10-game suspension, netting three times in three matches for Liverpool this season.
Ayre hailed the pairing and said he expected the side to get even stronger when players like Philippe Coutinho, Glen Johnson and Aly Cissokho return to full fitness.
Speaking at the Asian Football Awards, the Anfield supremo said: "I think it's been good that they have both had periods where they've had their opportunity to play individually.
"I think everyone recognises that they really do have some kind of natural partnership there.
"The more they can do that, the more they can profit from it in terms of goals.
"I think we are already a force to be reckoned with and hopefully we can continue to improve on that when we get our full squad back.
"We still have some players out, (like Coutinho, Glen Johnson and Aly Cissokho)."
Ayre insisted Suarez will improve as his match sharpness increases, and he reiterated Liverpool's desire to extend the 26-year-old's stay at Anfield at a time which suits the club and the player.
"There's always more to come from Luis," said Ayre. "Obviously he's somebody that we would love to have for the long-term.
"All our players are important to keep whether it's Luis or anyone else - we don't sign players that we don't want in the group.
"But Luis is the same as everyone else and we will deal with him the same as everyone else at the appropriate time and in the appropriate way."
Ayre also refuted suggestions Liverpool's promising start in the Premier League has been the driving force behind the restoration of the Uruguayan's belief in Brendan Rodgers' Anfield project.
"I don't think there was ever any doubt in Luis mind of the project. I don't think that was it. I think it was the transfer window," he said. "People come and people try to convince players that they might want to be elsewhere.
"My job, and our job - and Brendan's been very forthright and very committed regarding what he wants - is to try to manage that and I think we did a good job of it this summer and long may it continue."
Liverpool's managing director also gave supporters further optimism regarding the proposed redevelopment of the club's Anfield stadium which it is hoped will hold 60,000 people in its first phase.
"We are very optimistic about how it's going," Ayre said. "We've made fantastic progress in the last 12 to 18 months, more progress probably than in the last 10 years, so fingers crossed and we will keep our heads down to try and achieve it."