Real Madrid president Florentino Perez could bid for Monaco striker Radamel Falcao
Real Madrid chief Florentino Perez has refused to rule out a bid to bring Radamel Falcao back to the Spanish capital.
Last Updated: 15/10/13 2:18pm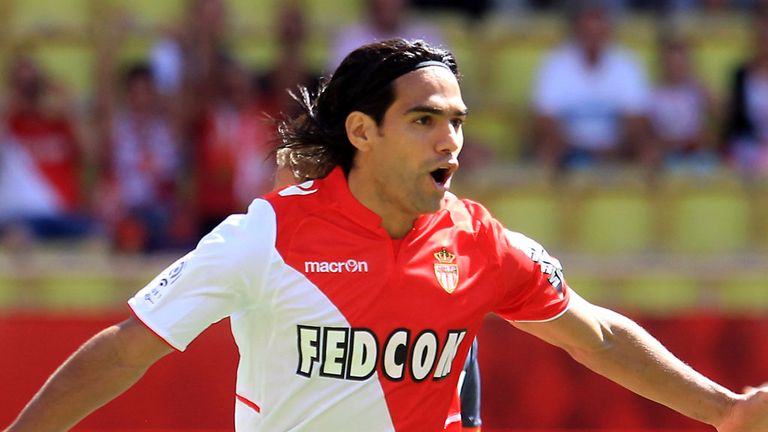 Real were linked with a possible move for the Colombian this summer before he left their city rivals Atletico Madrid for Monaco.
"He (Falcao) won't come in January but in June, who knows?" Perez said on television show Punto Pelota.
"Nothing is impossible and there is a lot of time between now and then, Falcao is a great player and I am aware that he wants to play for (Real) Madrid. I am aware of that, but it's normal. They told me."
Regarding Liverpool striker Luis Suarez, who was strongly linked with Real in the summer, Perez said: "Again, he is a great player, but we can't sign everyone."
Perez was asked about the decision to sell Germany international Mesut Ozil, who has impressed since joining Arsenal before the transfer window closed.
But the Real chief insists that Ozil wanted to leave, and so would not stand in his way, adding: "Ozil left because he wanted to.
"He wanted to go and brought with us an important offer. If he wanted to stay he would have been here.
"But it is impossible to sign seven players and nobody will leave, we opted for youth and with the youth we will go forward and to put all that together it is necessary that someone has to go."
Perez also spoke about the likes of Karim Benzema, Xabi Alonso, Sergio Ramos and Iker Casillas, who have all been linked with moves away from the club.
"I have faith in all the players in our squad," Perez said.
"Karim is a great player and we get offers for him all the time, every summer.
"All I can say is that the coach is the one who has the authority to do what he believes is right."
Alonso
On Alonso he said: "He is one of the most important players and able to overcome everything.
"If he wants to stay at Madrid, he will stay. If he thinks his future is elsewhere then I understand perfectly.
"He is a player who has given everything to Madrid and he will have every opportunity to do what he wants."
He was clear in his admiration of Ramos, who he would like to see sign a new deal and he insists nobody has ever made an offer because they know what the answer would be.
"We've had no offers for him, but it is normal because they know we will not sell. Renewal does not have to be now, but in due course," he said.
"We do not talk about these things [contract renewals] as they affect people, their salaries and contracts but I am very fond of Ramos.
"We made a great effort to get him here and will do our best to see him retire here as with others, such as Cristiano [Ronaldo] a little while ago."
He also insisted that goalkeeper Casillas has told him he wants to stay, despite the competition from Diego Lopez.
"Casillas did not want to leave. He wants to be useful to the club," he said.
"Casillas has been with us since he was nine-years-old and Madrid is home, he is our captain and that of the team and has enjoyed a lot, but sometimes things go wrong. When that happens, we must continue working.
"The situation of Casillas and Diego Lopez is very complicated. They are both great goalkeepers and the fans are with them.
"He has a contract and we trust him to stay in Madrid until the end of his sporting life."