Liverpool boss Brendan Rodgers believes team can improve more in Premier League
Brendan Rodgers believes Liverpool still have room for improvement following their impressive start to the season.
Last Updated: 04/11/13 8:48pm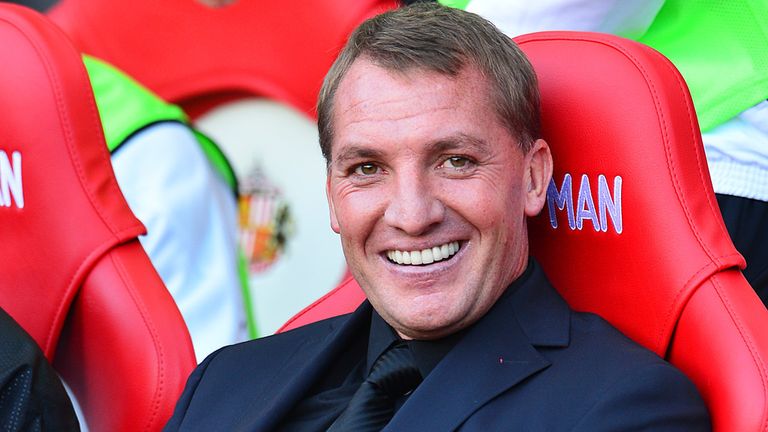 Victory at league leaders Arsenal in Sky Sports' Saturday Night Football clash would see Liverpool overtake their opponents and Rodgers admits his side are "in a good place" heading to the Emirates.
"Arsenal are a top team and the competition this year is very close," he said.
"Liverpool is about winning trophies and that expectancy is always here. I believe we are in a good place at the moment having started this season as we would have wanted.
"We have started strongly, have put a marker down showing we are going to be consistent and I think we can only get better from here.
"We have a lot of young players who are still developing, and that goes for the front two that everyone is talking about.
"Daniel (Sturridge) is 24 is improving all the time and Luis Suarez has shown us an improvement in his footballing ability and his maturity.
"That bodes well for us but we won't get carried away. They must keep their concentration and continue to work very hard every day on the training field.
"That is what has brought us success over a period, not just this early part of the season but since the turn of the year."
Rodgers also offered his congratulations to Liverpool owner John W Henry after his Boston Red Sox won baseball's World Series.
"Congratulations to the owners of the Boston Red Sox," he said. "It is very clear that they are a group who had a plan to get that success.
"It is brilliant for them and another demonstration of an organisation which is proven to be successful and I am aware of the changes they have made in order to bring that success.
"But it takes that little bit longer in this sport."
You can watch Arsenal take on Liverpool live on Sky Sports 1 from 5.30pm this Saturday.