Brendan Rodgers says Liverpool striker Luis Suarez was never going to join Arsenal
Liverpool boss Brendan Rodgers has told Arsenal their bid to sign Luis Suarez "was never going to happen".
Last Updated: 03/01/14 9:27am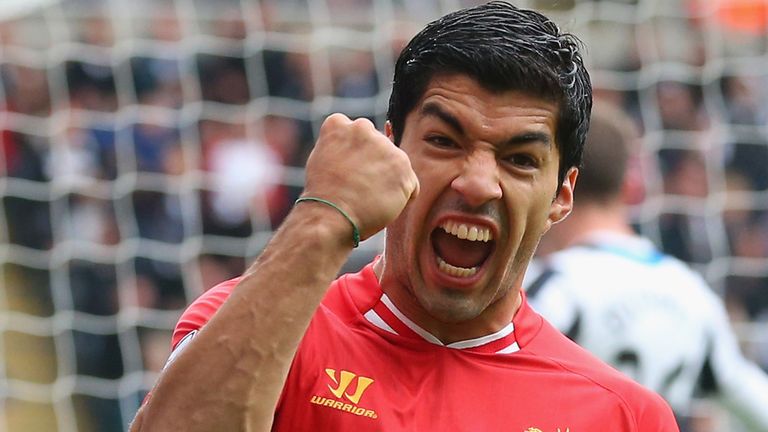 Arsenal made a £40,000,001 bid for the Uruguay striker in the belief that would trigger a clause in his contract which was instantly rejected.
Suarez went public with his frustrations by claiming the club had reneged on a deal he claimed allowed him to join a Champions League side.
But Liverpool owner John Henry was adamant there would be no sale and Suarez will line up for the Reds against the Premier League leaders on Saturday.
"I understand why Arsenal would want to buy a player of Luis' quality because he is one of the leading strikers in the world but it was something that was never going to happen," said Rodgers ahead of the trip to the Emirates Stadium.
"For us and the institution we are we certainly weren't going to sell to a rival, a competitor, and that was something which was very strong from the off.
"There was all sorts of gossip on the summer but we were very firm in our leadership, from the top right the way through, that this was something we didn't want to do.
"It was a great credit to the owners and the leadership of the club that they stood by what my thoughts were as a manager and they backed it all the way."
Third-placed Liverpool will be looking to strengthen their top-four credentials against the Gunners in the evening kick-off after a good start to the campaign.
That has left Rodgers insisting Suarez can fulfil his Champions League ambitions without leaving.
"There is no greater stage for him than a club like this," added the Northern Irishman.
"He is a player, like some of our other players, who deserves to be playing at the highest level of European football but we believe he can do that at Liverpool.
"We won't get carried away, we have to keep our concentration and continue to work very hard."
Meanwhile, Arsenal midfielder Mikel Arteta says it is a 'pity' that his former neighbour did not move to the Emirates Stadium.
"People don't know the real Luis," Arteta told The Sun. "He's a really good lad.
"I know Suarez really well. He used to live in the next house to me and, whenever I've met him, he's always been really nice.
"It's a pity Arsenal could not get Suarez.
"Suarez and Daniel Sturridge are the two most in-form strikers in the league and will be a big threat to us. But we have the quality to beat them."