Brendan Rodgers says Liverpool defender Glen Johnson fine for Fulham clash
Brendan Rodgers says England defender Glen Johnson will be available for selection for Saturday's visit of Fulham.
Last Updated: 09/11/13 2:14pm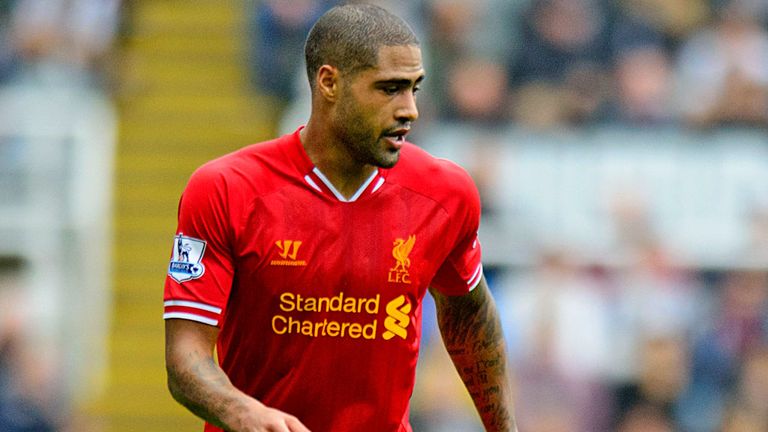 The right-back missed last weekend's 2-0 Premier League defeat at Arsenal due to a localised infection in his jaw that required a trip to hospital.
However, Johnson was subsequently discharged and returned home on Saturday evening and is available for the clash with the Cottagers this weekend.
"Glen Johnson will be fit," Brendan Rodgers told a pre-match press conference at the club's Melwood training ground. "He's fine. He's trained this week - it was just one of those peculiar things that happened.
"Maybe if it had been a day earlier, he may have been able to play (against Arsenal). But he's fine for the game and has looked good in training this week."
Rodgers congratulated midfielder Jordan Henderson after his inclusion in the senior England squad for the upcoming friendlies against Chile and Germany.
He added: "It's great for the boy and I think it merits the start he's had this season, he's been outstanding, so congratulations to him."
And Rodgers preferred to move on from the controversial incident at the Emirates when Luis Suarez took a quick free-kick for Daniel Sturridge, who played in Henderson for what could have proved a first-half equaliser against the Gunners, only for the referee to pull play back.
He said: "I was given an explanation after and that was it really, there's nothing you can do about it now.
"It was disappointing at the time. I thought the referee had a good game but from that incident, I said after we're trying to get the flow of the game going and trying to stop players rolling about if they get tackled, then we're in a really dangerous situation.
"If Lou (Suarez) gets brought down, and all credit to him, the ball wasn't rolling, he's done well and he's stopped the ball. We've made an action to go and there's a high possibility it would result in a goal. As I said it's gone, so we move on."