England: Steven Gerrard honoured to be winning 108 caps, the same as Bobby Moore
Steven Gerrard says he feels "proud and slightly embarrassed" to be equalling the number of caps won by Bobby Moore.
Last Updated: 19/11/13 2:47pm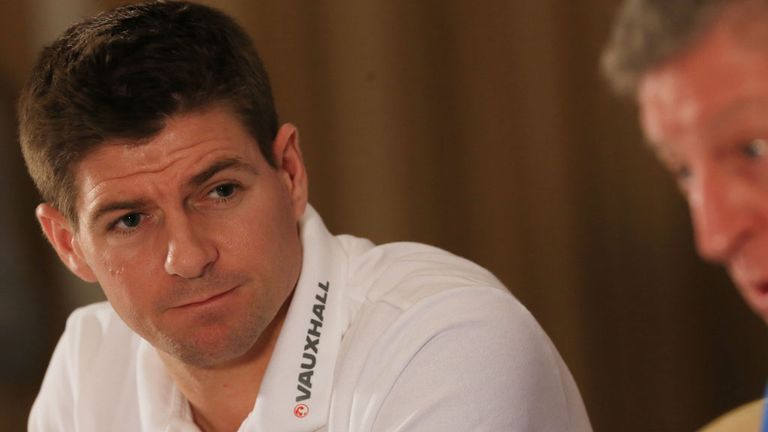 Skipper Gerrard has recovered from a hip injury in time to lead England out at Wembley on Tuesday night against Germany and he will earn his 108th cap, to draw level with Moore.
Goalkeeper Peter Shilton is out on his own with 125 caps but only David Beckham (115) will have more than Gerrard and Moore among outfield players after Tuesday night.
"I am very proud and slightly embarrassed," said Gerrard. "Because we are talking about a World Cup winner and an icon, someone who is a hero to everyone in the country.
"To equal his record is a fantastic achievement. Myself and my family are very, very proud.
"It is quality opposition to get my 108th cap against but, for me, it is about getting the right result, and then I can look back on the game with fond memories."
England were thrashed 4-1 by Germany when the teams last met in the 2010 World Cup.
But Gerrard added: "Tomorrow is not about revenge or putting right what went wrong over there.
"Every time you play against Germany you want to win. We want to win and to keep trying to improve. We want to build on the recent performances against Montenegro and Poland."
England boss Roy Hodgson paid tribute to Gerrard and says the Liverpool man helped him immensely when he was first placed in charge ahead of Euro 2012.
"He has brought an enormous amount to the team over the years," said Hodgson.
"Going to the Euros, with my coming in at a late stage, (I was) relying on Steven to make certain the ideas, the philosophy and way we wanted to work was put across to the players, and he was that type of leader.
"Leaders are often people we think about as going around screaming and shouting but my idea of a leader is someone like Steven Gerrard, who is strong in his opinions but basically does all his work on the field and in the dressing room with the players.
"He, and Wayne Rooney and Frank Lampard as excellent deputies, have a very strong influence in that dressing room, because everyone looks up to them.
"To equal Bobby Moore's number of caps, he must be very proud, because Bobby was one of our truly iconic players of the past."