Premier League: Liverpool captain Steven Gerrard plays down title talk
Liverpool captain Steven Gerrard insists it is too early to talk up the Anfield club's Premier League title chances.
Last Updated: 23/11/13 12:20pm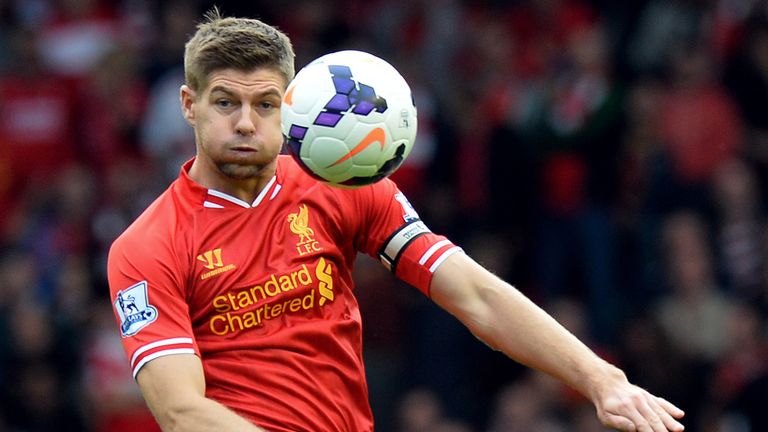 A Premier League winners' medal is the only club honour missing from the England skipper's extensive trophy cabinet as he enters the latter stages of his career.
And while the Reds are currently in second place, just two points adrift of leaders Arsenal, ahead of the weekend's Merseyside derby with Everton at Goodison Park, Gerrard said no-one was getting carried away.
"I think it's important for me as captain of the team not to raise expectations," he said.
"When you're talking about winning titles, it's premature, it's too early, and I don't want to get anyone's hopes up.
"That would be unfair. Our dream and our plan at the beginning of the season was to break into the top four.
"We're slightly ahead of where we thought we'd be, but it's a tough league and there's six or seven teams capable of finishing in the top four... so there's (going to be) a huge fight.
"But the confidence and belief are definitely there."
Speaking to ESPNFC, the 33-year-old, whose current contract runs until the end of next season, added: "There'd be a hole missing in my career (without a title win) but I don't think I'd spend the rest of my life being irritated or annoyed or frustrated.
"I don't think that would be fair on myself. (Since) I broke into this team at 18 years of age I've tried to win the title but it hasn't happened.
"I've got a couple more chances and I'll continue to fight for it."
Gerrard returns to Liverpool after captaining England against Germany but manager Brendan Rodgers is not overly concerned he played in the friendly despite not being 100% fit.
The national team skipper required a painkilling injection in a hip problem to get him through the game. However, Rodgers is confident the 33-year-old can cope with the strains being put on his body.
"It's very simple; he's a brilliant professional," said the Reds boss.
"He is someone that manages his body really well - he knows he's got a superb medical team here to support that.
"The training methodology helps him because he's working in different spaces and different exercises on a daily basis. That takes away a lot of impact and physicality.
"He just manages himself really well. He knows his body. Over the last 18 months, you only need to look at his record since we came in - it has been very good.
"In big part, that is down to him and his professionalism."
Daniel Sturridge also played only one of England's two friendlies - completing 90 minutes at Wembley on Tuesday - after attending international duty with a previous thigh problem.
"He obviously went to England with an injury," said Rodgers.
"He's had a dead leg for about three to four weeks that he has been playing through. He hardly trained when he left, after the Fulham game.
"We'll assess him; he's back recovering after that, with the other international players. We'll see how it is over the next couple of days."
The injury news was not so positive on left-back Jose Enrique, who is set to undergo surgery to correct a long-term knee problem.
"We're just waiting for clarification on his injury, but it looks like he'll probably need a small operation," he added.
"It's disappointing because he has been out for a couple of months and we've tried various ways to get him back fit but he's still in pain.
"The conclusion will be that he'll need the operation and we'll assess it from there.
"I just need to wait and see, wait to hear from our head doctor and we'll get a better idea of how long that will be."