Jordan Henderson: I never lost faith I would be a success at Liverpool
Jordan Henderson has told Sky Sports News he never seriously entertained the idea he would not make it at Liverpool.
Last Updated: 22/11/13 8:00pm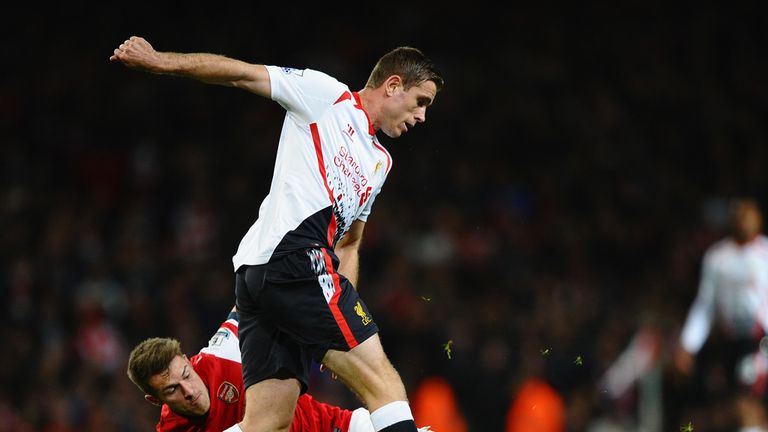 The midfielder has emerged as a key member of Brendan Rodgers' second-placed side this season barely a year after the manager appeared willing to sell him to Fulham.
Henderson - one of the Kenny Dalglish signings criticised by Sir Alex Ferguson in his recent book - told Rodgers in the summer of 2012 he would rather stick around and fight for a first-team place than go to Craven Cottage.
And no Liverpool player has started more Premier League games this term than the 23-year-old, who won a seventh England cap during England's defeat to Germany in midweek.
Appearing on Sky Sports News' Weekend Warm-Up programme, he said: "When I go out there I'm confident and I want to do well for the team, hopefully I can carry on to do that, keep working hard in training and carry on playing.
"I think if you're not playing particularly well maybe there's a little bit of doubt, but at the same time you're always wanting to do better, always want to get better.
"I felt as though I had a big part to play at Liverpool still and I didn't show my full capability, really. I was still confident that I could do that and obviously the manager was fantastic in trying to improve me and a player.
"Of course you get low, the most important thing for footballers is playing football. If you're not playing then obviously you're going to get down at times, but it is a test of your character and you've got to show that you're strong enough to deal with those things when you're not in the team.
"The manager's been brilliant with me, on a personal level as well. He's been fantastic, and when I wasn't playing as much he would always tell me what I needed to do to improve to get in the team.
"I've improved a lot since he's come here really so I need to try and repay the manager with performances on the pitch."
Henderson's continued involvement with England as left him as short as 5/2 with Sky Bet to make Roy Hodgson's World Cup squad, but he said: "That's a long way off yet.
"I'm concentrating on Liverpool at the minute and I'm sure if I'm playing well for Liverpool then I'll put myself in a good position for the World Cup in the summer."