Liverpool captain Steven Gerrard praises Jon Flanagan's derby display
Steven Gerrard says Jon Flanagan was given a round of applause by his team-mates after his performance against Everton.
Last Updated: 25/11/13 1:38pm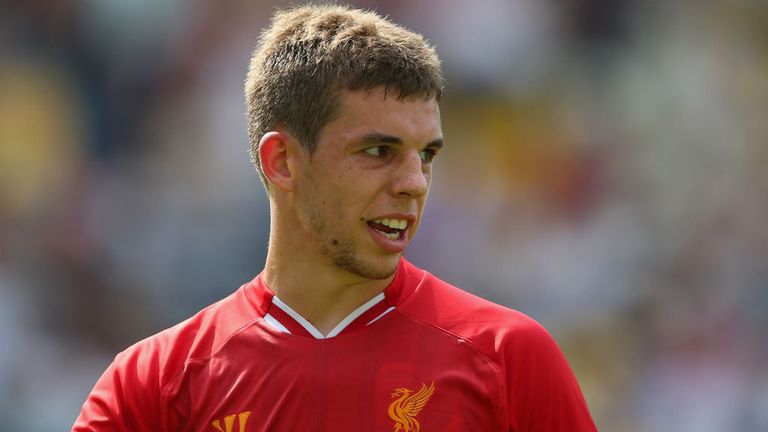 Flanagan was handed his first experience of the Merseyside derby in an unfamiliar left-back spot and he produced an assured display at Goodison Park after a thrilling 3-3 draw.
It was only Flanagan's second start of the season and Gerrard was impressed by the 20-year-old's showing, feeling he was Liverpool's best performer on the day.
"You look at our team and our star man, for me, was Jon Flanagan by a country mile," Gerrard told the club's official website.
"He doesn't get many headlines but, as captain of the team, he was the player I am most proud of. I thought he was unbelievable.
"He's been fighting hard in training just to get in the 18, never mind the starting XI, but the manager threw him in at the deep end against a top-class player like Kevin Mirallas and I thought he was sensational.
"It was one of the best derby performances I have seen for many years. He reminds me of Jamie Carragher in a lot of ways. I don't think you would judge Jon in terms of ability or skill, but he is all about heart, desire, determination and fighting for the cause.
"He's a Liverpool fan like myself, so I know what it meant to him to come into a derby and finish as our man of the match by a mile.
"I didn't have to say anything to Jon before the game. He's a local lad and you don't need to tell them what the derby means. He's known what to expect from an early age.
"Jon was on the front foot, he was aggressive. He did exactly what the manager told him to do before kick-off. He asked him to be positive and anticipate the danger. He was brilliant.
"All of the players gave him a round of applause when he came in the dressing room afterwards."