Skrtel Q&A
Ahead of Liverpool's trip to Hull City on Sunday afternoon, Martin Skrtel underlines the club's ambition to return to the Champions League, clears the air over previously being linked with an Anfield exit, and explains what it is like to have Luis Suarez as a next door neighbour
By Peter Fraser - Follow me on Twitter @SkySportsPeteF
Last Updated: 30/11/13 11:00pm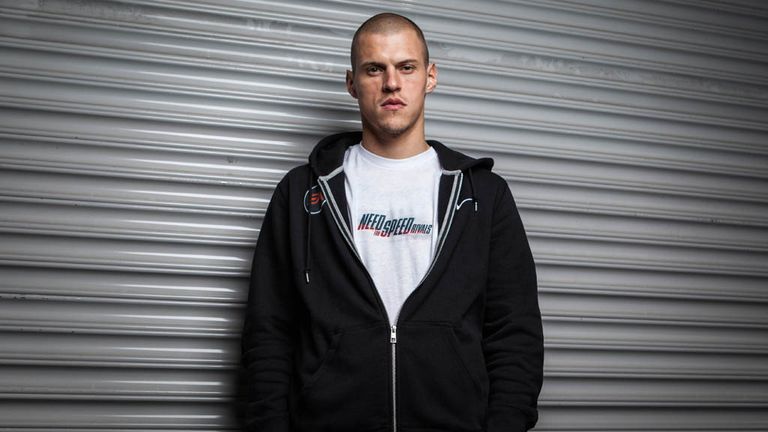 After a few disappointing seasons, Liverpool have a renewed sense of optimism in the current campaign. As the end of the calendar year of 2013 approaches, the Anfield club sit second in the Premier League and have been mentioned as possible title contenders.
The main aim for Brendan Rodgers' squad is to return to the UEFA Champions League and anything else on top of that would be a bonus. But when they take on Hull City live on Sky Sports on Sunday, they will have the chance of closing the gap on table-topping Arsenal.
Here, speaking at the launch of Need for Speed Rivals on PS4, Liverpool and Slovakia centre-back Martin Skrtel underlines his club's top-four ambitions, clarifies his own future, explains what it is like to bump into Luis Suarez in Tesco, and lifts the lid on life after Jamie Carragher's ear-bashings.
Does this feel like a different season, because everyone has high expectations that it could be a better season than Liverpool have had for the last two or three years?
"In a club like Liverpool, the expectations are always high. But the last two seasons were really unlucky and was not good for us. The aim before this season was to start well. We could do that. We are second in the league and the players are where we want to be. Everything is good and working. I hope it works in the future, as well."
What would count as success in the season for a club like Liverpool?
"We have a target; we want to qualify for the Champions League. But we know the season is very long. This season, especially, the league table is very close. We go from game to game and try and get as many points as we can. We will see where we finish."
Do you think you have got an advantage, not just because you have a settled manager but because you are not playing Tuesday, Wednesday and Thursday in Europe?
"It can be. But you have 25 players and everyone wants to play. When you have only one game a week, you obviously do not have the chance to play every single player. But maybe we can save our energy a little bit. We will see at the end of the season whether it is an advantage or not."
Do you miss the Champions League?
"Obviously. The Champions League is a competition with the best teams and players in Europe. The dream of every single player is to be in the Champions League so we are missing that. That is why we want to be there."
Does it feel like there is now stability at the club after having four managers, Rafa Benitez, Roy Hodgson, Kenny Dalglish and now Brendan Rodgers in five years?
"Yeah, the atmosphere in the team and in the club is now great. We are doing well and things are working so I think that the atmosphere is the best from the last few years."
You came close to winning the title under Benitez in 2009 and a lot of people thought you should have won it that year. How does this team compare? Does it have the potential to be the best Liverpool team in which you have played?
"That season under Rafa was great. We were unlucky to not win the league. This season has started well and we just need to carry on and try to get as many points as we can. I think this team is totally different to the team under Rafa. I do not want to say if there are better players or not but the team is working now. You can find an experienced player, you can find a mid-aged player and you can find a young player. Everything is fitting well. If it is not the best, it is one of the best teams I have played in at Liverpool."
How long do you think Liverpool can be out of the Champions League but still attract the best players in the world?
"Obviously, Liverpool as a club, for me, are still one of the biggest clubs in the world. The players are proud to play for Liverpool. Everyone obviously wants to play in the Champions League so it is very important for us as players and for the club to qualify. We will work very hard to get to the top four and the Champions League."
You must come up against Luis Suarez in training? What is he like to mark?
"It is very difficult. For me, he is one of the best strikers I have played against. I have only played against him in training. I can be happy for that and it is good for me and the team that we do not need to mark him in the other team. He is very competitive and he tries to beat you in training. The other thing is he is a very nice guy. He is totally different on and off the pitch. I like him. He is a very good man."
Suarez gets negative publicity sometimes after various things that have happened but do you get to see a different side to him?
"He had some problems in the past and that can happen to everybody. But, as I said, he is very nice off the pitch. He is my neighbour so I can meet him off the pitch, as well. He is a family guy."
Is it important that Suarez stays at Liverpool beyond this season?
"Of course. If you want to play at the top level, you need the best players. Luis Suarez is one of the best strikers in the world."
We heard that you had opportunities to leave Liverpool and a lot of clubs who were in the Champions League were interested in signing you. How close was that or was it something that never crossed your mind?
"After last season, when I did not play regularly, I was thinking about everything. One choice was to leave the club but I had a think and, as I said, Liverpool are still one of the best clubs in the world. I have been at the club for almost six years. I like the club, I like the fans, I like the city and my family is settled here. It is not easy to say, 'I want to leave'. I said to myself I would fight and in pre-season I would do everything possible to get back into the team. That was my target for this season."
You were linked with joining Benitez at Napoli. Was there anything in that?
"There was a lot of talk in the newspapers but there was nothing serious. I always tried to keep my mind on Liverpool. I am happy I decided to stay."
Have you done anything different to win your place back in the team?
"Not really, no. I know last season was not the best for me and there were a few games which were very bad for me and I made a few mistakes. That is part of a footballer's life - to have a bad season or something - I think. I was on the bench for five months so it was not an easy period for me. But I just tried to work hard in every single session and tried to prove to my manager I was able to play."
Suarez and Daniel Sturridge as strikers are getting a lot of the spotlight but you have also been very good at the back. How important is it for Liverpool to have a good defensive base?
"To try to keep a clean sheet is very important, because if you do not concede a goal you cannot lose the game. That was something we tried to work on in the pre-season. Then we know we have the quality up front to score goals."
As a defender, are you happy that the forwards seem to take all of the credit?
"Yeah, because football is not about one, two or three players. It is about the squad and maybe even more, because there is the coaching staff and everybody who works around the team. Strikers take more glory for scoring the goals but, at the end of the day, we are winning as a team."

You have finished eighth and seventh in the table in recent seasons and, at the beginning of this campaign, Brendan Rodgers said he just wanted improvement. But you have made such a good start, if it was said to you now you could finish fifth, would you be okay with that?
"No, I definitely would not be happy with that. As I said, the target is the top four and that is what we are looking for. I believe in the team and I know we can reach that target. I hope we can do that."
You are playing at Hull on Sunday. Do you remember you drew 0-0 at Hull in Benitez's last game on the final day of the 2009/2010 season? When you look back on that time, when there was a lot of uncertainty about Liverpool's owners and the manager, do you remember it as being difficult?
"It was difficult times for the club but, for me, personally, it was not really, because I was a new player who had come to a big club. I was enjoying every single minute in the club."
When you left the field after that game at Hull on the last day of the season, did you as players know that Benitez might have been going?
"Not really. We knew it was not the best season for us. But I was not thinking he might have been leaving. I was looking at my holiday, because it was the last game of the season (laughing)!"
Is it true you could have been an ice hockey player? Do you ever think about what might have been?
"That was the thing when I was aged seven or eight in the village where I grew up. In the summer, we always played football and, in the winter, it was ice hockey. You could say I was quite good at sports. I chose football, because my dad played football, as well. He was my first coach. Ice hockey is very difficult. I enjoy watching ice hockey and have a lot of friends in ice hockey."
Ice hockey can be quite brutal. Did playing ice hockey toughen you up as a footballer player?
"I do not think so, because I stopped with ice hockey when I was young. Ice hockey players are very strong men. I am a defender and need to be strong, too. That is a part of my game."
When it was a quiet game at Liverpool in previous seasons, the one thing you could always hear was Jamie Carragher shouting and organising the team. Now Carragher has retired and become a Sky Sports pundit, who does most of the talking at Anfield?
"No-one can do the same talking as Carragher, because he was special at that! But you need a player to organise the team. He always made you work hard, because he would be screaming and shouting and everything. Now he has retired and it is very difficult to replace him. He was in the business for a while and is a legend at the club. But now we have five or six centre-backs and each of us wants to start the game so we try to do our best to fill the gap."
Could you understand what Carragher was saying in his Scouse accent?
"When I started at Liverpool, absolutely not. But last season it was much better."
You mentioned you like Liverpool as a city and we have seen you around the shops with your family. Would it be impossible for Suarez to do this? Is it different for him?
"I have met him a few times in Tesco! They are a normal family who need to eat and drink so they need their shopping, too!"
Martin Skrtel was speaking at the launch of Need for Speed Rivals. The latest instalment in the ever-popular franchise is the only driving game launching on PS4. Need for Speed Rivals is also available on Xbox One and all other formats. Watch the trailer here and let the rivalry commence!