Premier League: Liverpool striker Luis Suarez targets top-four finish
Luis Suarez has pledged to carry on scoring the goals which will fire Liverpool back into the UEFA Champions League
Last Updated: 05/12/13 1:34pm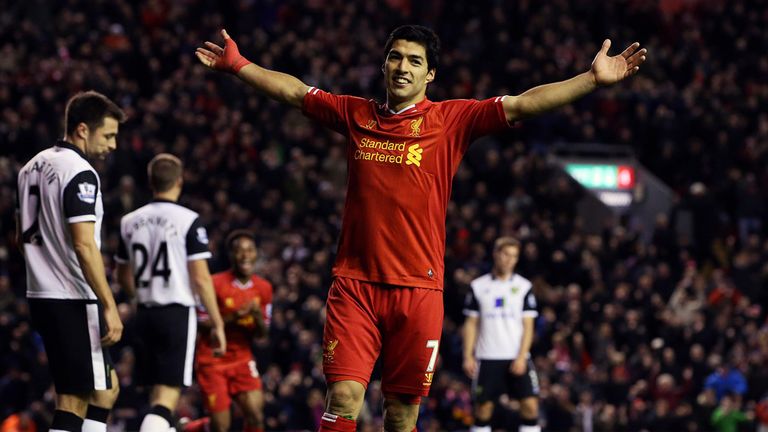 Suarez scored four goals against Norwich City on Wednesday night and provided the cross for Raheem Sterling's late effort in the 5-1 win.
Only four months ago, the 26-year-old wanted to leave to play Champions League football but, with Liverpool in the top four and only three points behind second-placed Chelsea, he is keen to maintain his current form.
And with fellow striker Daniel Sturridge out until possibly the middle of next month, Suarez is happy to shoulder the goalscoring burden.
"I think we can achieve what we set out to do," the Uruguayan, who became the first Premier League player to score three hat-tricks against the same side, told Marca when asked about their Champions League chances.
"My aim is just to help make the team better. My job is just to score the goals that mean we keep winning games and get as high in the table as possible.
"I am happy to be in the Premier League, the best league there is. I am happy here and I will stay.
"I don't know about challenging for the title, but we want to be as high up in the table as possible and do as well as we can. I think we can achieve our target."
Suarez has now scored 51 league goals in 84 appearances and is also the Premier League's leading scorer with 13 in just nine games.
However, he said the most significant thing was for the team to bounce back from Sunday's disappointing defeat at Hull City.
"It was most important we won. I helped the team and I am so happy," he told LFC TV.
"It is good for me but for the club it is important for confidence for the next game.
"It is very important because we lost the last game and played very badly. We know when you play at home you have to be strong."
Manager Brendan Rodgers was also delighted with the efforts of his number seven against Norwich. Asked if it was one of the best striking performances he had seen from one player in a game, Rodgers told Sky Sports: "Well certainly I haven't seen better. It was a brilliant performance, just a pleasure to have watched that.
"Every goal was like a 'wow' goal, from the first right through to the end, so incredible performance by an incredible player and, as I said, it was a real pleasure.
"I really enjoyed watching my team tonight, we were full of creativity and goals and worked very hard."
He added: "You can't ask any more, he's certainly earned his money and just a pleasure to work with.
"I think you see his happiness, he's really happy in his football and the whole club just is a hand-in-glove fit for him."
The display also left Charlie Nicholas drooling in the Soccer Special studio and the former Arsenal striker says Suarez may soon emerge as an even better number 7 than Kenny Dalglish, who won six league titles and three European Cups during his playing days at Anfield.
He said: "Dalglish was my all-time hero and the things he won at Liverpool were extraordinary.
"He did extraordinary things, but this number 7 is all about the type of goals he scores. Kenny made as many as anybody else, but this guy is right up there.
"If he continues to play for Liverpool for another couple of seasons I think you're potentially looking at the best player ever in a Liverpool shirt. He really is. He takes my breath away.
"Stevie Gerrard ran to celebrate the first goal and was chuckling. Stevie must have been telling him that he's extraordinary - and I've heard him say that.
"Honestly, he takes your breath away. This guy is remarkable."