Brendan Rodgers backs Luis Suarez to become an all-time Liverpool great
Brendan Rodgers believes Luis Suarez has the potential to become one of Liverpool's all-time greats.
Last Updated: 05/12/13 4:18pm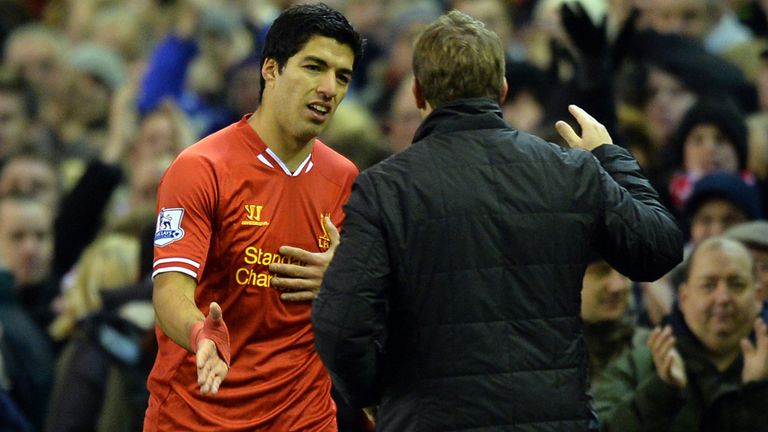 And the Anfield boss is adamant the striker's current form vindicates his decision to stay with the club when targeted by a number of teams from at home and abroad during the summer.
Arsenal, Real Madrid and Barcelona were all said to be chasing the Uruguay striker, who sat our the first six games of the season after his 10-match ban for biting Chelsea defender Branislav Ivanovic stretched over into the new campaign.
But after his four-goal haul against Norwich, which took his total for the season to 13, Rodgers insists Suarez is loving life at Liverpool and, should he stay, will write his name into the club's folklore.
Speaking on Sky Sports News, he said: "He has the potential to be one of the club's greatest ever players and his decision to stay at the club after a summer of unrest has been vindicated.
"This club has been blessed with many No.7s, like Kenny Dalglish the greatest player Liverpool has ever had, and many others who have been brilliant.
"But I think if Luis Suarez stays here for his career then he is certainly going to challenge them.
"Luis is extremely happy here at Liverpool. We don't want to bring everything up from the past - it was a difficult summer for everyone - but we stood firm as a club and he understood where we were at.
"He knew what our plans were, what our thinking was and that was to keep our best players at the club.
"So hopefully he will feel vindicated for staying and wanting to be here. I think this is the perfect club for him. The whole profile of Liverpool suits him down to the ground.
"Hopefully, over the coming years he can achieve everything he wants to achieve, and that is playing at the highest level. His talent deserves that, this is a club that deserves that and with players like Luis here that will give us a better chance.
"He is loving life here at the moment, you can see that in his game, and as I said he is up there with the top players in the world at the moment."