Premier League: Brendan Rodgers says Liverpool could open talks with Luis Suarez
Brendan Rodgers says Liverpool could open contract talks with Luis Suarez if his current form continues.
Last Updated: 06/12/13 11:02am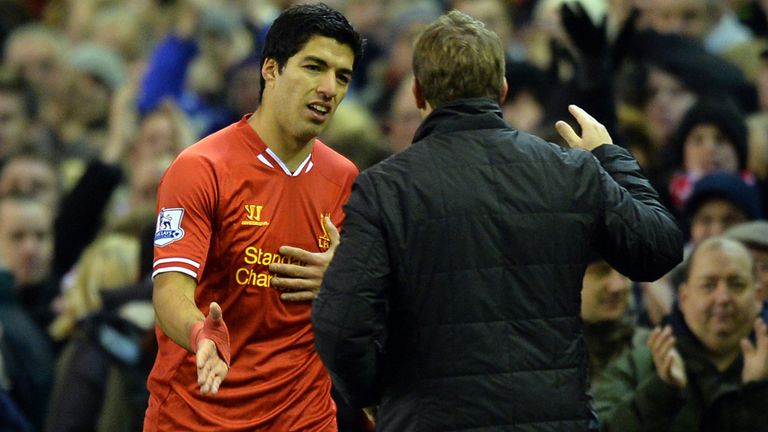 The Uruguayan has been in superb form this season with 13 goals in his nine league starts, which included four goals against Norwich in midweek.
Suarez's form, though, came off the back of a turbulent summer which saw him ask for a move away from the club, and Liverpool turned down an offer from rivals Arsenal amid claims there was a 'gentleman's agreement' that would allow the striker to leave if a Champions League club made a bid.
Liverpool denied any such deal was in place and have never budged in their determination to keep him.
After completing a lengthy domestic ban for biting Chelsea's Branislav Ivanovic, which saw him miss the start of the season, Suarez has shown his best form in a Liverpool shirt, and he has played a major role in the club mounting a title challenge.
"There never was that (gentleman's agreement) before, and there never was this summer," Liverpool manager Rodgers insists.
"The contract was what it was.
"We want him to stay and, with his contract running for two and a half years, I am sure there will be something between now and the end of the season to keep him here.
"The most important thing is that the player is happy. I didn't sit in on the conversations last summer but, as I understand it, there is no agreement of any kind.
"I think all parties are fairly comfortable at the moment. We made our feelings known in the summer and it is where it is.
"The only concentration now for us and Luis is to keep him playing at that level, and the rest takes care of itself."
Future
Rodgers refuses to believe that Liverpool will have to finish in a Champions League spot to keep hold of Suarez.
"Is his future here linked with the Champions League? It is linked with him being the best player he can be, playing at the highest level he can," he said.
"He has two and a half years left on his contract, so there will be another two years to go in the summer. That's all there is to be said. But I just have a feeling, an inkling (that he may stay), and it is based on where he is in his life and conversations with him.
"His behaviour, mannerisms and performance levels tell me he is very happy being with Liverpool and in the Premier League. That gives me confidence."
Skipper Steven Gerrard - who has played alongside some great players over the course of a distinguished career - believes Suarez is now proving that he deserves a billing alongside the likes of Lionel Messi and Cristiano Ronaldo as the finest performers on the planet on the back of his star performance in midweek.
He told Liverpool's official website: "You have seen a world-class performance, probably one of the best individual performances I've seen at Anfield - and I've been playing here a long time.
"Having worked with him every single day, it's probably less of a surprise to me as it is to the supporters. I've been pushing his corner for a long time that he is up there with the best in the world.
"I think he's getting so close to the main two, Ronaldo and Messi. If he keeps going, I think he can catch them.
"His fourth goal was average and it was a 30-yard free-kick, so I think that sums his performance up."