Premier League: Liverpool midfielder Joe Allen unaffected by Everton miss
Joe Allen says that the pressure of playing for Liverpool has helped him to recover from his derby miss against Everton.
Last Updated: 15/12/13 11:54am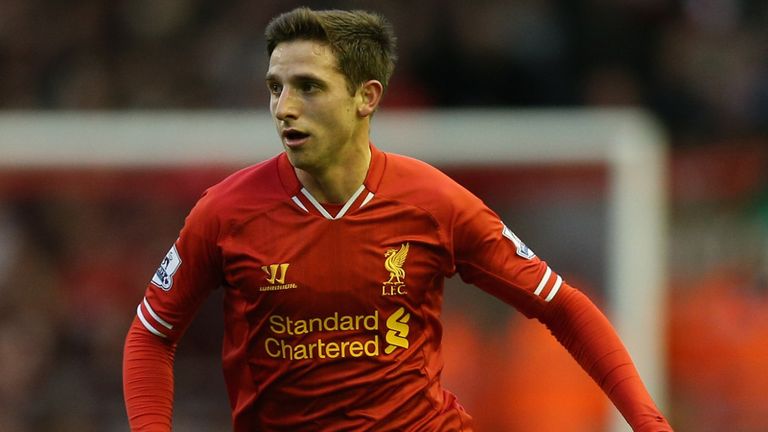 In November's 3-3 draw, the 23-year-old failed to convert from eight yards out when Liverpool were 2-1 ahead, firing wide when he should have put the game beyond the Toffees' reach.
Allen was an unused substitute for the following week's defeat at Hull City, but he has since starred in 5-1 and 4-1 home wins over Norwich and West Ham respectively.
The Wales international has taken plaudits for his displays in the two wins and he admits that he needed to bounce back from the miss at Goodison Park.
"Things can get taken out of perspective in the intensity of a game like the derby, and a lot of people probably wrote me off the second that game finished," he told the Mirror.
"I feel it was something that would have affected me in the past but, in all honesty, it didn't really affect me too much. I was able to look at it as one moment in one football match.
"I understood the significance of it, of course. It was a pivotal moment in a massive game and there is no hiding from that. But I understood it was a miss and it happens in football."
Allen, who joined from Swansea in summer 2012, also says that the expectations that come with playing for a club of Liverpool's stature are different to anything he has previously experienced in his career.
"Being at a club like Liverpool, you understand the scrutiny and pressure is 10 times greater than at other places and you have to learn to deal with that. That has been a positive thing for me," he said.
"In the 18 months I've been here it's probably the side of football I've improved a lot.
"It didn't affect my confidence as I think it would have done in the past. If anything, I was excited to get back out there straight away. That is down to myself and others at the club who help you in that regard."
Meanwhile, Allen's midfield team-mate, Steven Gerrard, has been ruled out for a month with a hamstring injury and the former Swansea man thinks that his captain will be missed.
"It is going to be a massive blow for us to lose Stevie. Obviously he's a key player for us and our leader," he said.
"People have to step up and show we can cope with that loss."