Suarez debate
From tactics to money - have your say as we discuss the positive and negative elements of Luis Suarez, arguably the Premier League's best player, and his new contract at Liverpool...
By Peter Fraser, Sam Drury & Oliver Lines
Last Updated: 20/12/13 4:08pm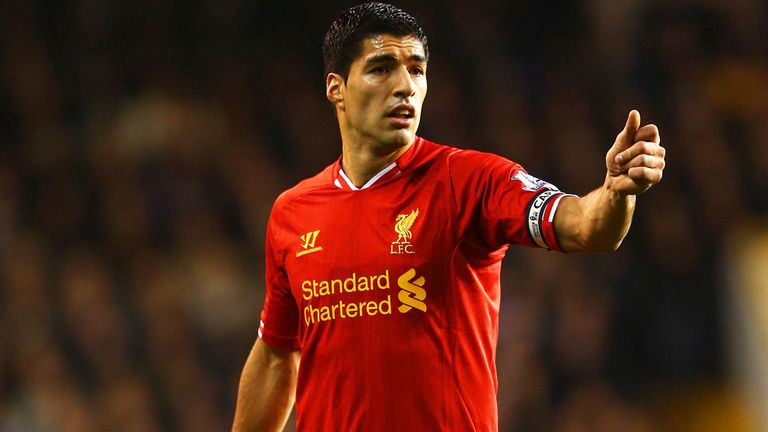 Liverpool supporters could surely not have asked for a much better early Christmas present than the news star striker Luis Suarez has signed a new long-term contract.
The Uruguayan has not been without his controversies since moving to England from Ajax in a £22.8million deal in the January of 2011 but he has been one of the main reasons the Anfield club could go to the top of the Premier League if they beat Cardiff City on Saturday lunchtime.
Suarez's two goals in last weekend's humiliation of Tottenham Hotspur took his tally for the season to 17, which is all the more remarkable given it has come in just 11 league games since returning in September from the ban he received for his shocking bite on Chelsea's Branislav Ivanovic last season.
But the news of the striker, who turns 27 in January, putting pen to paper on his new deal has also not stopped the sceptics suggesting he could still leave next summer, having been linked with Real Madrid before also spending the recent close-season trying to force a move to Arsenal in the wake of the Premier League club's infamous £40,000,001 bid.
Here, we discuss the positive and negative elements of the latest headline surrounding Suarez. Let us have your opinions via the feedback form at the bottom of the page.
Positive
One Direction
That Suarez is prepared to commit himself to a new contract with Liverpool would suggest he has confidence in the manner in which the club is progressing. He has said he wants to play in the Champions League and all things are pointing towards a return to Europe's pinnacle competition given their current position in the Premier League. Brendan Rodgers' approach to the game also appears to be enjoyed by Suarez, which has been a key in keeping him happy. The commitment from Liverpool's star player and apparent faith in the club's mentality will also breed confidence among the rest of the squad and ensure they maintain momentum. Suarez also has the chance to repay Liverpool given his previous controversies of racially abusing Manchester United's Patrice Evra and his bite on Ivanovic.
Style Of Play
Rodgers' tactics and game plans are built around getting the best out of Suarez. Whether it be in playing as a lone frontman and flanked by pace in wide areas, such as against Tottenham with Philippe Coutinho and Raheem Sterling, or playing in a partnership with the currently injured Daniel Sturridge, Suarez is the main man. His intelligent movement, timing of runs, clinical finishing and preference to receive the ball to feet is a perfect fit for Rodgers' tactics. Rodgers did not sign Suarez but there are surely not many more of the best strikers in the world who would be ideally suited to the Liverpool boss' approach to the game. The Premier League also gets to hold on to arguably its best player. After the high-profile departures in recent years of Cristiano Ronaldo, Cesc Fabregas and Gareth Bale, it became a worry to fans of the league that they would not see world-class players reach their potential.
Money, Money, Money
From a financial perspective, every party would appear to benefit. Suarez will have no doubt enjoyed a pay-rise, with reports earlier in the week claiming discussions were centring on a potential £200,000-a-week deal. Meanwhile, Liverpool are now in a much better bargaining position if some of the world's heavyweight clubs come calling in the next summer transfer window. Given his current form, Liverpool could easily command a fee in the region of Gareth Bale's world-record move to Real Madrid.
| | |
| --- | --- |
| Player | Luis Suarez |
| Team | Liverpool |
| Appearances | 11 |
| Minutes On Pitch | 988 |
| Goal Attempts |   |
| Goals | 17 |
| Mins per goal | 58 |
| Shooting Accuracy | 65% |
Negative
Escape Clauses
Given the mess that was the summer of 2013, Liverpool will have raised and defined the release value in Suarez's contract, and perhaps added the ability to block him from joining a rival English club. But the South American's representatives will have been in a perfect negotiating position given Suarez's form and his importance to Liverpool. As a result, they will have inevitably ensured their client has a clear escape route from Anfield if he should so wish. This could include the ability to leave if Liverpool do not qualify for the Champions League or having a major say in the fee which must be matched in order to activate his sale.
Controversy Is Never Far Away
Suarez's past track record shows that while he is a superb player, he is also never far from causing a storm for his shocking behaviour. In less than three years in the Premier League, he has infamously been given lengthy bans for his unacceptable actions towards Evra and Ivanovic. It must therefore surely be a worry that Suarez will never truly be able to control himself. If he again hits the headlines for the wrong reasons any time soon, Liverpool will be made to look extremely foolish given he will be a player who has been handed a lucrative new contract after several past major indiscretions.
Not Another Torres
Liverpool fans do not want another Fernando Torres scenario. Torres signed for Liverpool in 2007 and broke all sorts of goalscoring records at the club, and amidst rumours of him being unsettled in 2010 when Roy Hodgson replaced Rafa Benitez as manager of the cub, the Spaniard claimed: "My commitment and loyalty to the club and to the fans is the same as it was on my first day when I signed." Six months later, Torres handed in a transfer request and was sold to Chelsea for a then-British record £50m. Liverpool fans felt betrayed by the man affectionately known as El Nino, and the club have only just started to recover after a series of sub-par seasons. The Anfield faithful can sense a similar situation brewing after Suarez claimed he wanted to leave in summer and now making similar comments to Torres (Suarez told the club website: "I am delighted to have agreed a new deal with Liverpool and have my future secured for the long term."), even a new contract may not be enough to tie the tricky striker down to the club for the foreseeable future.