Making the grade
As Liverpool prepare to take on Stoke this weekend, Sam Drury looks at the contrasting fortunes of Charlie Adam and Jordan Henderson at Anfield
Last Updated: 10/01/14 4:53pm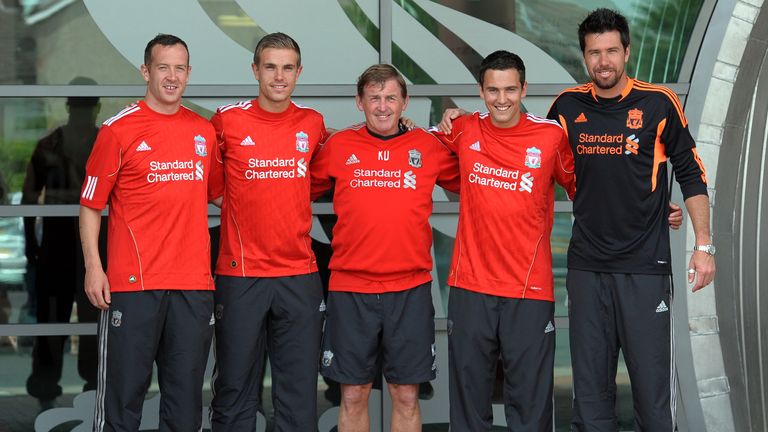 They had ended the 2010/11 season in fine form under caretaker manager and club legend Kenny Dalglish. The Scot was handed the job on a permanent basis and Liverpool went on a spending spree that looked set to boost the squad even further following the January acquisitions of Luis Suarez and Andy Carroll.
By the end of the season, any such optimism was long gone. Despite winning the League Cup and reaching the FA Cup Final, Liverpool finished eighth in the league and Dalglish was relieved of his duties.
Aside from a disastrous second half to the campaign, it was the failing of the summer signings to perform, especially given the fees paid for them, which many saw as the reason for Dalglish's dismissal.
Two such signings were midfielders Charlie Adam and Jordan Henderson who both endured fairly torrid debut seasons at Anfield.
Henderson played in all but one of the Reds league fixtures whilst Adam, likewise, was a regular before injured curtailed his season in March. It wasn't enough, however, to stop the duo being labelled flops as Liverpool limped over the Premier League finish line marooned in mid-table.
Much was expected of the pair when they arrived. Adam was much sought after following his stand-out performances for Blackpool as they tried in vain to avoid the drop. His range of passing and dead ball expertise had caught the eye of many Premier League managers including Sir Alex Ferguson who remarked that his fellow Scot's set pieces were worth £10m on their own.
The then Manchester United manager was also said to have been an admirer of Henderson, presumably before he realised the midfielder ran a bit strangely, and for a time it was presumed the Sunderland youngster would end up at Old Trafford.
So, that both wound up at Liverpool was seen as something of a coup for the club and, as the season began, their early showings on the pitch did little to alter that view.
A draw and two wins from the opening three games of the season saw Dalglish's men among the early leaders and both Adam and Henderson were on target in the home victory over Bolton.
It wasn't long though until things started to go wrong. Adam was sent off in a 4-0 defeat at Spurs and playing on the right wing Henderson was out of position and looking very much out of his depth.
A year on from having made his England debut and the Mackem was looking like anything but an international player. His manager persevered with him and there were signs that, technically at least, there was a player worth sticking with. The problem was Henderson's mentality.
He didn't look like he believed he should be playing for Liverpool. The Reds no. 14 was like a deer in the headlights and invariably chose the easy option rather than attempting the more ambitious pass for fear of losing the ball and feeling the wrath of the Anfield faithful.
Meanwhile, Adam enjoyed his best spell in a Red shirt in the weeks after his sending off as he and Lucas formed a reasonable partnership in the centre of midfield.
A season ending knee injury for Lucas soon put an end to that and Adam's form dropped alarmingly. Without the Brazilian's tenacity and energy alongside him the Scotland international, much like Liverpool's back four, was exposed.
At Blackpool Adam had played in a three man midfield with David Vaughan and Keith Southern who did the dirty work, allowing the former Rangers man to focus almost exclusively on his role as primary creator.
Being paired with Lucas in central midfield had enabled Adam to do similarly but without him the playmaker was required to do more defensively. His lack of mobility was an issue and whereas at Blackpool he had been the star man with the team built around him, at Liverpool he simply wasn't good enough to be worthy of such treatment.
By the time he ballooned his penalty high over the bar in the League Cup final shoot-out against Cardiff many Kopites felt they had seen enough to declare that Adam wasn't going to cut it on Merseyside.
Liverpool's league form had nose-dived and Adam was one of the players singled out for criticism, Henderson was another but as the season drew to a close the then England under 21's captain began to show glimpses of the promise that had persuaded the Reds to pay between £14m and £20m (depending on which report you believe) on him.
A goalscoring performance against Chelsea at Anfield, playing in his favoured central midfield role, was arguably the highlight for Henderson but as the season ended and Dalglish departed his future, as with Adam, was very much up in the air.
Brendan Rodgers arrived and many Liverpool fans saw this as the end for Adam at Anfield.
The midfielder didn't appear to fit in with the style of play the new manager preferred. So it proved and after one disappointing season he was off, Tony Pulis taking him to Stoke in a £5m deal on transfer deadline day.
Since then it has been steady rather than spectacular for Adam at the Britannia Stadium. His undoubted attacking talents have seen him often deployed in a more advanced role during his time in the Potteries and four goals so far this season suggests it has worked reasonably well.
He may not have been hitting the headlines in the way he did during his Bloomfield Road heyday but the Scot seems settled at Stoke in a less pressurised environment. With Mark Hughes now at the helm, Adam looks to have put his Merseyside misery behind him to become an important player for his current side.
Henderson too is now a key player having remained at Liverpool and made significant strides towards fulfilling his potential in the past 12 months.
Unlike Adam, the arrival of Rodgers was seen as a good thing for Henderson. The midfielder was seen to be just the sort of player the Ulsterman would appreciate - hard-working, energetic and good technically.
However, he too was very nearly out of the door at Liverpool having been touted as a possible makeweight in a deal to bring Clint Dempsey from Fulham to the North West. Henderson though rejected the move and stated his intention to prove himself at Anfield.
Initially it seemed to have backfired. Even with Adam gone, the youngster found first team opportunities hard to come by following the arrivals of Joe Allen and Nuri Sahin. Henderson also found himself behind Jonjo Shelvey in the pecking order and with Steven Gerrard and Lucas to consider too, things looked bleak.
He remained patient and as it was Henderson's hard work paid off. After forcing his way back into the team for the second half of last season, he has been a revelation so far in 2013-14 much to the delight of his manager.
"At 23 years of age, he has got his whole career in front of him," said Rodgers. "It is thanks to his quality and professionalism that he is making marked improvements."
He has started every league game this campaign and after a good start to the season stepped up his game once more in recent weeks in Gerrard's absence. From being derided as a waste of money less than two years ago, Henderson is fast becoming a player Liverpool would loathe to be without.
This weekend Henderson and Adam come face to face again as Liverpool travel to Stoke in a Super Sunday clash. Both men look set to play a big part for their respective sides and will have points to prove.
Adam will be determined to show Rodgers and Liverpool that they were wrong to let him go while Henderson must show that he is capable of maintaining his recent form and not defer responsibility to Gerrard now that the captain is back in the side.
Having arrived at Liverpool to the same fanfare in 2011 their careers at the club took different paths and while Henderson's star looks to be the one on the rise, Stoke's home record versus Liverpool in recent seasons suggests Adam may yet have the last laugh.