Brendan Rodgers says Liverpool have mental toughness to win Premier League
Brendan Rodgers says Liverpool have developed a mental toughness that proves they can be serious title contenders.
Last Updated: 18/01/14 4:41pm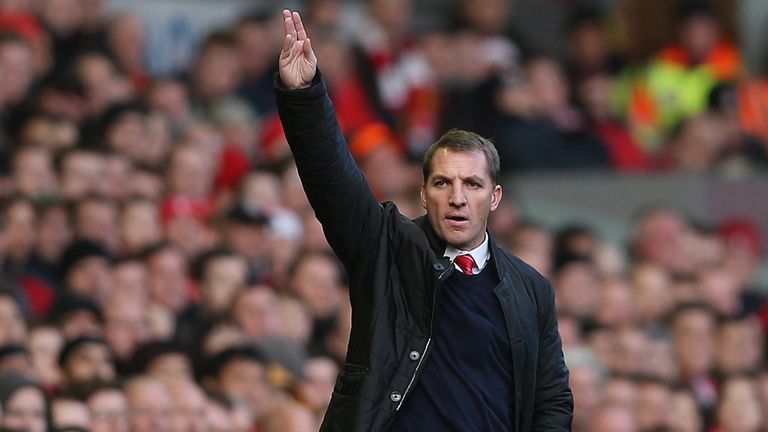 Leading 2-0 at Stoke - where they had not won for almost 30 years in the league - Liverpool were pegged back to 2-2 at half-time before coming through to win 5-3.
That, says the manager, shows more about their state of mind than it did about their talent.
"It was a wonderful demonstration of mental endurance," Rodgers said.
"I am sure people sat at home at half-time were thinking 'this is a true test' but in the second half we demonstrated emphatically how our game is improving on the pitch - but equally important was the mental personality and fitness.
"I look at it as a game similar to the one at Tottenham (a 5-0 win), a game which sets up a standard for us.
"At Tottenham it was a wonderful footballing display. Stoke away, in the situation we were in, was a great benchmark of our mental fitness.
"What it gives you is that great belief. We go into any stadium without the fear to play, whatever the opponent.
"You are not going to win the game purely on ability. There are going to be games when you are not playing as well and you have to find a way to get a result - and that was last weekend.
"Psychology is a massive part, at the elite level of sport it is the edge, and that type of performance and result bodes well in the coming months because each game is very important."
Arsenal, Manchester City and Chelsea are among the favourites to win the title but Rodgers insists his side cannot be discounted at this stage of the season.
"We've got all those teams to play at home, and we're only six points off the leaders, so you have to feel that we are (in the title race), and we have the confidence and belief in ourselves," he added ahead of the visit of Aston Villa.
"Of course, everyone will talk about the three clubs in front of us because they've got squads that have been around there for years and have big squads to choose from.
"For us it's a case of continually improving and working, and trying to fight to be up there."
Watch Liverpool take on Aston Villa live on Sky Sports 1 this evening. Coverage starts at 5pm