Premier League: Liverpool manager Brendan Rodgers 'reprogramming' Steven Gerrard
Liverpool manager Brendan Rodgers believes converting Steven Gerrard into a holding midfielder will prolong his career.
Last Updated: 18/01/14 12:51pm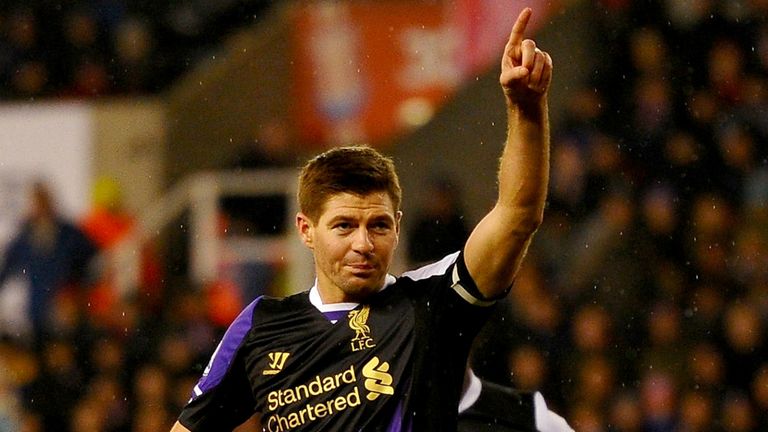 On his return from injury on Sunday, the Reds' captain sat in a deeper role, just ahead of the back four, as Liverpool triumphed 5-3 over Stoke at the Britannia Stadium.
Gerrard's performance delighted Rodgers and the Northern Irishman believes a more defensive role is where the 33-year-old's future lies.
The visit of Aston Villa to Anfield on Saturday night will be Gerrard's 651st Liverpool appearance and Rodgers claims being the side's 'controller' will significantly extend his career.
"It's something Steven and I have spoken about for a while," Rodgers told the Liverpool Echo.
"I thought he did very well in that role at Stoke. The mix of his game was excellent.
"It's a special type of player who can play that position. Lucas Leiva has played there outstandingly well for us, Joe Allen has played it well and I think Steven Gerrard can play it because of his personality."
Control
Although earning plaudits from his manager, Gerrard remains defiant, claiming a deeper role does not mean he is showing signs of aging.
"You want me to sit here and say that I can't play the same way anymore, that I have to control the game from deep and play a slower game - it's not happening, not yet," Gerrard told the Telegraph.
"Maybe as we work through the ages, maybe 33 or 34, then maybe I might be dropping a bit deeper."
Despite Gerrard's desire to continue pressing forward, Rodgers believes the England captain possesses the technical ability to command fixtures between the defence and midfield.
"If you look at the profile of someone in that position, tactically, it's someone who can co-ordinate the game and can lead it from behind," he added.
"You have to understand when to play short, when to play long and when to press the ball.
"You need to have charisma and leadership qualities to play in there. You need to have the love of the football. You need to want the ball - you have got to be the guy who opens up the game for the team."
Reprogramming
After 15 years in the Premier League, Rodgers insists there is bound to be a period of transition for Gerrard but believes a switch could rejuvenate his career.
"Steven has all those qualities," Rodgers claimed. "Steven is not - and he will tell you himself - at 33 what he was at 23. But what he still has are world class qualities such as his passing and his reading of the game.
"You see with his passing range - short and long - that he can really contribute from there. I believe that role could prolong his career into his late 30s."
A drop deeper could open the door for attacking midfielders at Anfield but Rodgers maintains the talismanic Gerrard remains the club's set-piece architect.
"Steven's movement patterns in games for most of his career have been in the other half of the field," Rodgers said.
"Now you are reprogramming him for his movement patterns in this half of the field. Once we continue to do more work on it on the training field he'll get that total picture of where he's at.
"Steven is still one of the best dead-ball specialists in world football and we are the highest goalscorers in the Premier League from set-pieces this season."