Premier League: Brendan Rodgers rejoices after Liverpool claim derby spoils
Brendan Rodgers was left to savour a 'special' derby feeling after seeing Liverpool hammer arch-rivals Everton 4-0.
Last Updated: 29/01/14 7:32am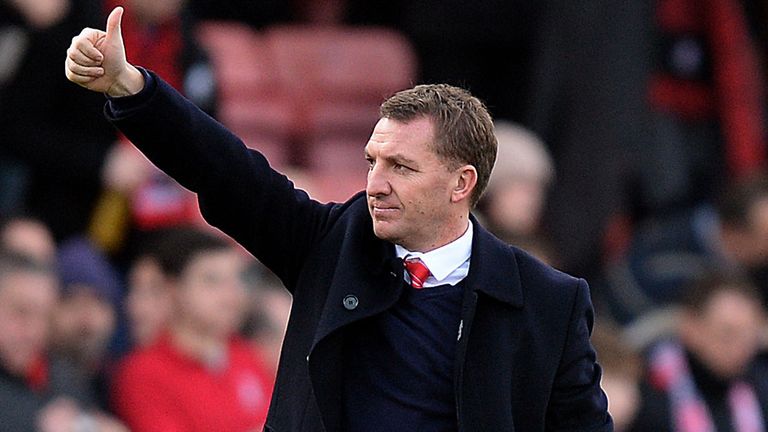 It took the Reds 21 minutes to break the deadlock at Anfield on Tuesday, but then the floodgates opened and they never looked back.
Talismanic skipper Steven Gerrard opened the scoring before fearsome SAS frontline Daniel Sturridge and Luis Suarez got in on the act, with the former netting twice and missing a penalty.
"I'm delighted for the players and obviously the supporters," said Rodgers.
"I know that feelings run high here on Merseyside for the derby games. It was a brilliant team performance. There was good defensive organisation. We were outstanding on the counter attack and we controlled our spaces really well.
"We were clinical in front of goal. We scored four and could have had arguably two or three more. It was a brilliant win for us and I'm delighted for everyone.
"It's obviously really special because of the nature of the game - it was two teams that have been doing outstandingly well and doing the city proud throughout the course of the season.
"It was a combination of the players and the supporters - they were brilliant again tonight. I'm delighted for them because I know how special the derby games are here and how special they are for the supporters.
"For them to get that win and the victory, and for the players to perform how they did, was really special. We've got a real focus and concentration going into every game.
"This was a massive game tonight as everyone who came to the ground knew, so for us to score goals, defend like we did and attack with that efficiency was very pleasing.
"We knew it was going to be a big match. I'm more delighted for the players and supporters. For me, it's three points; I'll be more delighted at the end of the season if we can arrive in the top four. I'll probably over-analyse the performance and see the areas we can improve on going forward."
A comprehensive success leaves Liverpool in fourth spot, six points off leaders Arsenal, and Rodgers is convinced that the Reds can secure a return to UEFA Champions League competition.
He added: "I think we've shown all season that we're going to be in contention for fourth place and we know that there's going to be one or two other teams fighting for it.
"We've shown a wonderful team spirit here [at Anfield]. We've had various players missing at various times. But we've been able to structure the team so that we're not relying on any one player.
"It's really about the ethos of the team and that was seen tonight. Our attacking players were filling in the spaces and putting the work in."