Fighting back
Sam Drury looks at whether Philippe Coutinho could be set to hit top form once more after an impressive display in the Merseyside Derby and ahead of visiting West Brom live on Sky Sports 1HD...
Last Updated: 01/02/14 5:48pm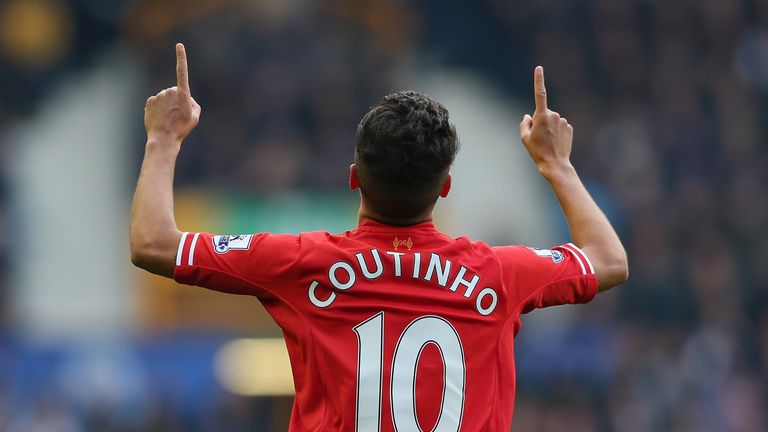 Can the player repeat his form once the action gets back under in August, or will he become the latest to fall victim to the dreaded second season syndrome?
The ailment is one to have befallen many a Premier League player, with the man to have suffered the worst case in recent years arguably being Newcastle's Papiss Cisse. The Senegalese striker joined the Magpies in January 2012 and took the English top flight by storm, scoring 13 goals in just 14 league games.
That was in just half a season. Given a whole year, he was sure to be right at the forefront of the race for the golden boot.
He ended the league season with just eight goals in 36 appearances.
This season's highest profile sufferer has been Michu. Swansea's Spanish forward helped himself to 18 Premier League goals last term, this season, though admittedly hampered by injury, he has just two.
Another man who was tipped to light up the league this season was Philippe Coutinho. The Liverpool playmaker arrived from Inter Milan last January and was instrumental in Brendan Rodgers' side enjoying a much improved second half of the season.
The 21-year-old Brazilian had shown the quick feet, vision and range of passing to leave opposition defenders not knowing which way to turn. The expectation was that having had six months to adapt and adjust to life on Merseyside he would be able to hit the ground running in 2013/14 and reach even loftier heights.
So far this season though, that has not been the case. His drop off in form has certainly not been as dramatic those of Cisse or Michu. Indeed, by most players standards Coutinho hasn't played too badly at all, but, given the hopes so many had for him, he has somewhat underwhelmed.
One reason for this is something that all players have to cope with in their second season in a new league - people know them. As a 20-year-old who had less than 100 career appearances to his name from games played in Brazil, Italy and Spain, Coutinho was something of an unknown quantity to the majority of his opponents. A few months on, and having used that fact to his advantage, defenders have started to wise up to the threat he poses.
The time and space he was afforded at times last season has been reduced with defences quick to drop once he picks up the ball, wary of his ability to thread a pass through to any one of Luis Suarez, Daniel Sturridge or Raheem Sterling.
However, despite that, Coutinho's pass completion rate of 79.02% is actually higher than last season, 74.42%. This may though be down to the fact that the former Vasco de Gama youngster has been forced to play the simpler pass due to his options being cut down quicker. A marginally lower pass completion rate in the final third of the pitch also suggests his options being lessened in forward areas.
A shoulder injury that kept him out from September until early November has not made it any easier for Coutinho to gain any momentum and that he has been forced to play in a role slightly tucked in on the left, rather than through the centre as a no. 10, where he excelled at the end of last season, can also be seen as a factor in his failing to live up to the hype.
When stationed wide, the Brazilian has found it difficult to influence matches and, although he has had the license to drift inside to get involved, it is far simpler for opposing teams to cut off the supply to Liverpool's chief creator.
His frustration has, at times, been clear to see. Things haven't always gone his way and this had led to occasions where he has tried to force the issue by looking for nigh-on impossible passes or, more often, hitting speculative long range efforts.
It is here perhaps where Coutinho has most let himself down. Having scored three goals in 13 games last season, he has managed just two in 18 this - missing four clear cut chances along the way. His shooting accuracy of 39.58% and a dismal conversion rate of just 4.17% highlight the problem.
Philippe Coutinho - stats comparison
Discipline
12/13
13/14
Minutes played
932
1351
Goals
3
2
Assists
5
3
Final third passing
70.19%
69.47%
Big chances created
9
9
Both his goals this season have been close range tap ins and it could just be that he needs one strike from more than five yards to go in to open the floodgates. Either way it is very much apparent that this is an area of his game that needs working on.
However, in other aspects it appears that the Liverpool no. 10 is actually doing rather better than he is getting credit for.
Indeed, only Suarez has created more clear cut chances than Coutinho's nine in the Premier League. Whilst scoring might be a problem for him, creating most certainly isn't and just three assists say more about the players on the end of the chances than about the provider, it would seem.
His pass completion rates may be not be overly impressive but that is a consequence of looking for the risker, killer pass more often.
Coutinho's job is not to simply retain possession and recycle the ball, that job is left to others within the Liverpool team. He is tasked with providing the decisive pass and the aforementioned clear cut chances created statistic shows he is doing just that - even if it is at the expense of an 85%+ pass completion rate.
The best in the business can manage both, David Silva being the best example. But then the Spaniard has seven years more experience than Coutinho.
Additionally, the defensive side of his game is often overlooked but he has shown in his time on Merseyside that he is more than capable of doing his bit, and doing it well.
This was evident throughout Tuesday's Merseyside Derby as Coutinho was given a slightly deeper central position only marginally ahead of Jordan Henderson, with Steven Gerrard holding, in a 4-3-3.
Up against James McCarthy and Gareth Barry, Coutinho won 80% of his tackles, 56.3% of his duels and made a total of 10 recoveries, equal with Gerrard and bettered only by Suarez.
Playing slightly deeper also gave him more space, showed by the fact he had more touches, 65, than any other Liverpool player on the night. The Brazilian was crucial, firstly in helping Rodgers' team to press and harry Everton's players in possession and then, with the Reds three goals up, in enabling them to counter-attack with such devastating pace.
On top of his assist for Sturridge's first goal, Coutinho also set up four shots at goal as well as putting Sterling through for him to be taken down for the penalty. Simply put, Everton couldn't get near him.
It was Coutinho's best display of the season by a distance and on a night of that gave Kopites so many reasons to celebrate, their midfield magician returning to top form was certainly one of them.
Whether this was down to tweaking his position slightly or things just clicking into place, it was the kind of showing fans and pundits alike had been expecting from him throughout the season.
It remains to be seen whether he can shake off his mild case of second season syndrome and maintain such form for the rest of the season, but, if he can then Liverpool's chances of reaching the top four will be significantly boosted.