Premier League: Kolo Toure accepts blame for mistake in Liverpool's 1-1 draw at West Brom
Kolo Toure has vowed to learn from his 'bad decision' which gifted West Brom an equaliser in Liverpool's 1-1 draw.
Last Updated: 03/02/14 3:38pm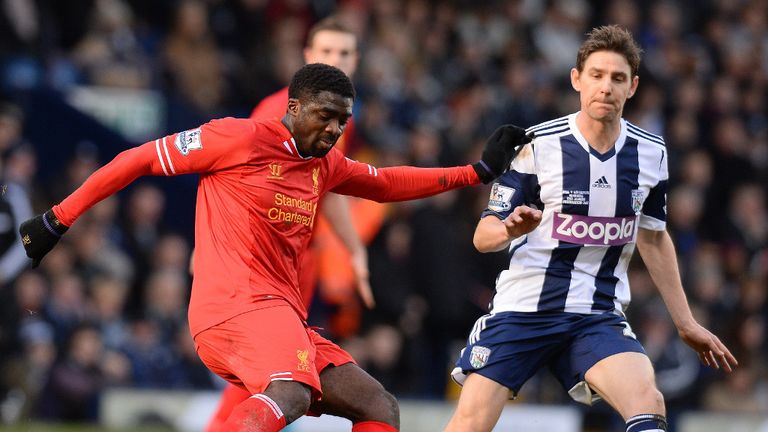 Liverpool led through Daniel Sturridge's first-half goal and appeared on course to go four points clear of Everton in the race for UEFA Champions League qualification.
However, midway through the second half, Toure received the ball from goalkeeper Simon Mignolet before rolling a pass across the edge of his own penalty area which went straight to Victor Anichebe.
The former Everton striker drilled his shot beyond Mignolet and experienced defender Toure has held his hands up to the mistake which cost Liverpool two points.
"It was a terrible pass by me," Toure told the Liverpool Echo. "You have to make the right decisions and I took a bad decision.
"It was my call. I should have passed to one of our players but instead I passed it straight to the striker.
"I just didn't see him (Anichebe). I should have played it to Aly (Cissokho) on the side.
"I wasn't surprised to get the ball from Simon because that's the way we play.
"I made a very bad pass. I don't know why I passed the ball into the middle of the pitch, it was crazy.
"I'm disappointed for me and the team. It's hard to take, especially for me, because we played well.
"It's difficult to say what we have been talking about in the dressing room but the manager knows how disappointed I am. My pass put the team in a difficult situation.
"When you make mistakes it's important to bounce back and play better. I've made a few mistakes in my life and I'm still learning every day. I will learn from this."
However, Liverpool manager Brendan Rodgers did not pin any blame on Toure following the slip-up against West Brom.
Rodgers told Sky Sports: "I'll never criticise players for trying to play football but Kolo probably shouldn't have received the ball under pressure and his pass was misplaced.
"But for me, it's the bravest place on the field as we look to build our play from behind. That has won us many games this season.
"We like to build the game and construct play from behind and sometimes it will cost you and today was unfortunately one of those days.
"Kolo Toure has been brilliant since he's been here. He's been a real leader, an outstanding professional and, unfortunately, it was a mistake."