Premier League: Brendan Rodgers is confident Liverpool will beat Arsenal
Brendan Rodgers says Liverpool expect to win every match they play at home as they attempt to beat Arsenal on Saturday.
Last Updated: 08/02/14 10:45am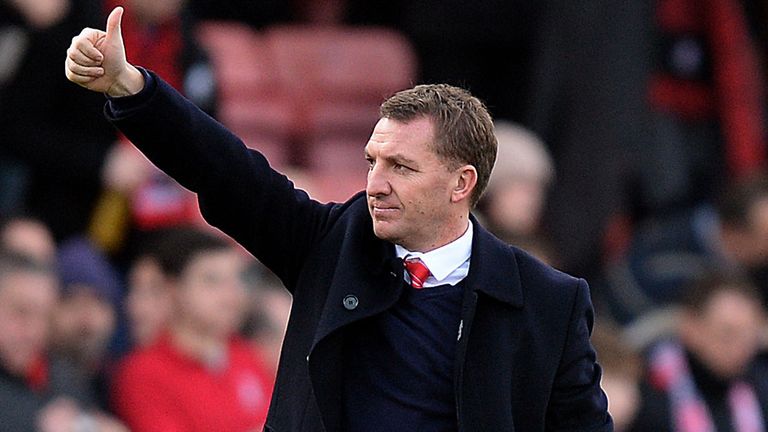 Liverpool have lost just once in the last 18 home matches and have already scored the same number of league goals at Anfield as they did in the whole of last season at home - 33.
Liverpool are currently fourth in the league and Rodgers acknowledged the expectation at the club amongst both the players and the supporters is different now to when he first joined in 2012.
"Our home form has been brilliant and that is vitally important for any team, especially a team who wants to be challenging at the top of the table," he said.
"We are going to go into each game looking to win the game. There is a greater confidence now.
"I certainly sensed (last season) there was maybe that little bit of fear of playing at Anfield because of the result.
"What we've tried to do over the course of the time I've been here is focus on the performance.
"You worry so much about the result but there is a process to getting the result - and if you worry too much about the result only it can hinder your performance.
"We want to win but what we can look to control is how we win and our performance level.
"That's something that over time has given us a confidence and a greater belief in winning games. We'll aim to replicate that at the weekend.
"We will always respect every opponent we play and none more so than the leaders but we will come into the game looking to perform and hopefully win.
"We expect to win now. I think when I first came in the pressure to win was difficult for us.
"We expect it because of the size of the club but we were never that confident to consistently do it, but now we go into every game expecting to win and none more so than at Anfield."
Arsenal won 2-0 the last time the two sides met in November, but Rodgers believes this weekend's clash is of greater importance as Liverpool try and secure qualification for the Champions League with a top-four finish.
"Our confidence wasn't so good (at the Emirates) and you have to give credit to Arsenal, who played well in that game.
"We understand the magnitude of this game and it could give us an extra push for the remaining games."