Premier League: Steven Gerrard reluctantly toes party line over Liverpool's title credentials
Steven Gerrard is reluctant to admit Liverpool are not title contenders following their 5-1 humiliation of Arsenal.
Last Updated: 10/02/14 4:00pm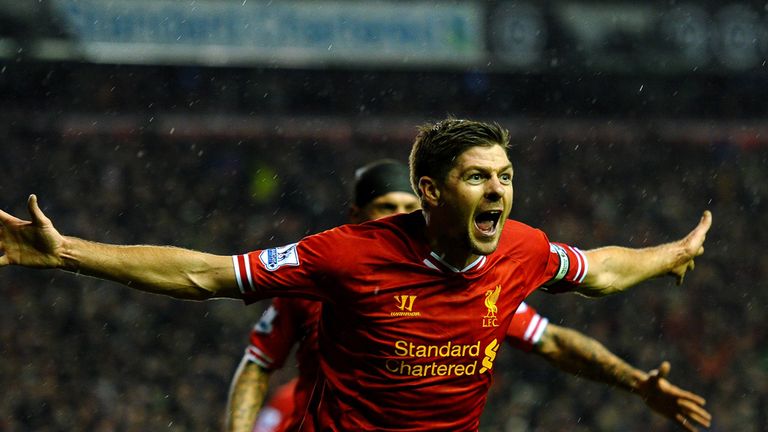 Brendan Rodgers' side moved to within six points of Chelsea at the top of the Premier League table with a scintillating display on Saturday that Gerrard believes was one of the club's top three performances of the last 15 years.
Rodgers insisted after the game that Liverpool are focused on securing a top-four finish - they are three points clear of fifth-placed Tottenham with 13 games to go - and Gerrard said he would go along with his boss.
"According to Brendan, we are not (in the title race)," he said. "Ask the manager (why not). Listen, he said we are not, so we are all behind Brendan.
"We do what he says and he says we are not in the title race, so we carry on pushing for the top four and see where it takes us."
On the quality of the win over Arsenal, the England captain added: "I am trying to think back of a performance - especially in the first half - that I can remember in the last 15 years.
"Maybe one or two in the Champions League got close but that was as explosive as it gets. That is right up there: definitely in the top three performances I have been involved in.
"You are talking about a side that is top of the league with world-class players, ones who are worth £42million; Jack Wilshere, one of the country's big hopes who we are looking to perform at a World Cup; (Santi) Cazorla - a World Cup winner.
"We have absolutely demolished a top team there, from start to finish."
Next up for Liverpool is a trip to Fulham on Wednesday evening and Gerrard is wary of the potential pitfalls after such a display.
"I think the dangerous thing after a performance like that is can we motivate ourselves to get close to producing something similar against Fulham?" he added.
"If we do, we will do the same to Fulham. We performed fantastically against Everton (4-0) and then slipped up against West Brom (1-1), having taken the lead. We should have seen that game out."