World Cup: Diego Forlan delighted to have Luis Suarez alongside him
Diego Forlan says Luis Suarez is a 'hero' in Uruguay and is delighted to be his strike partner ahead of the World Cup.
Last Updated: 10/02/14 11:04am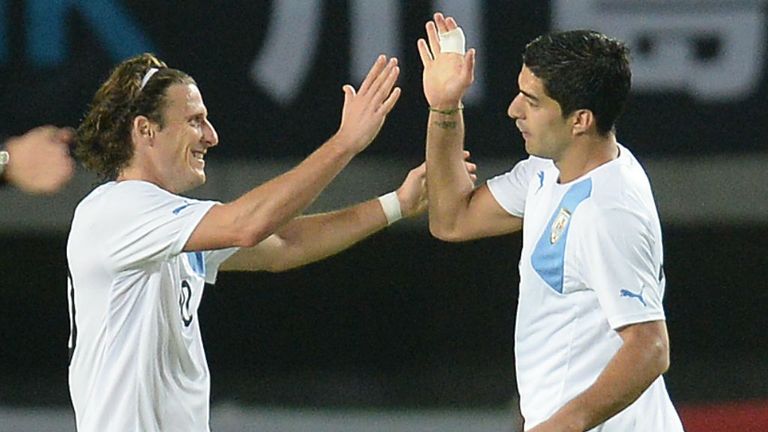 The pair are expected to lead Uruguay's assault on global international glory this summer, with Paris St Germain forward Edinson Cavani another exciting attacking option at coach Oscar Tabarez's disposal.
It will likely be Suarez who attracts the most attention in Brazil, with the Liverpool frontman having put his recent on-field troubles behind him to become the Premier League's leading marksman.
Forlan knows the 27-year-old as well as anyone and, while conceding that he may not be to everyone's liking, considers him to be among the most talented footballers of his generation.
Former Manchester United forward Forlan told the Daily Telegraph: "If you want to sum up what Luis Suarez can be like on a football field, look at the Ghana game in the last World Cup.
"He handled the ball on the line in the last minute of the quarter-final. He did it for the team and the world saw it.
"When the referee showed the red card, Suarez looked at him innocently and asked: 'Me?' He knew it was him, but there was a 0.1 per cent chance that the referee might not. Suarez took that chance.
"I realise not everyone agrees with that 'win at any price' attitude, but to us in Uruguay he's a hero.
"I first played against him in a warm-up game when he was in Uruguay's U20s as they prepared for their World Cup in Canada.
"Our strongest first team gave them a tough practice match. He was already a guerrido - a warrior, a soldier who has been through war, a fighter for every ball. He still is."
Forlan has also offered his take on events at Old Trafford, with it his opinion that things will come good under David Moyes if the Red Devils persevere with Sir Alex Ferguson's successor.
He added: "Players aren't robots, they need time to adjust.
"I think David Moyes will do well but fans need to be patient. United give their managers time. They should judge in another season.
"Until Moyes gets it right, it's a bonus for all the other teams. It's their moment now, their window to profit while United change."