Only a matter of time until Lionel Messi returns to top form, according to Luis Suarez
Luis Suarez is backing Barcelona playmaker Lionel Messi to return to his free-flowing best after returning from injury.
By Andres Garavaglia
Last Updated: 10/02/14 3:28pm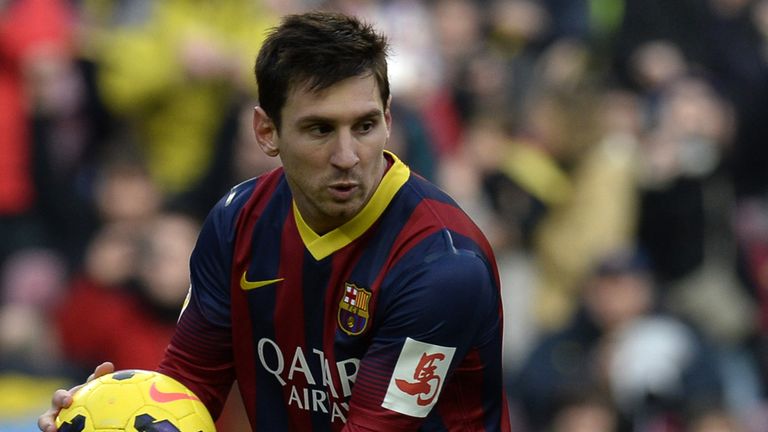 Messi spent 59 days on the sidelines with a torn muscle, but bagged a third brace since his return in January as Barcelona beat Sevilla 4-1 on Sunday.
Last month, the Argentina forward scored twice against Getafe in both legs of their Copa del Rey tie, before netting a penalty as Barcelona endured a La Liga defeat to Valencia.
However, despite already scoring seven goals since his return, Suarez believes Messi requires support as he readjusts to life after injury.
"Messi needs the help of his teammates," Suarez said during an interview on the Esports en Xarxa programme on Catalan radio.
"Now, in this delicate moment, his teammates have to give him a hand. He has done everything for the team for a long time, he gave a lot for the team and now he needs help.
"Messi has recovered from several injuries and once you return, you need some time to return to what you were before."
Suarez understands the difficulty of returning from injury and claims the mental aspect could continue to hamper Messi.
"In your head, you have the feeling that you can have a problem again, it's a little bit difficult, but I'm sure that little by little, Messi is going to again be the player everyone knows," he added.
"Once he sees that he doesn't have any physical problem, he will be the player he has been before.
"The injuries play in your mind, but once you notice that nothing bad happens, then everything is solved.
"It's only a matter of time until he starts to play without thinking that he can have another injury."