FA Cup: Liverpool boss Brendan Rodgers unhappy with Howard Webb after Arsenal loss
Brendan Rodgers felt that Howard Webb had missed a 'blatant penalty' after Liverpool lost to Arsenal in the FA Cup.
Last Updated: 17/02/14 9:55am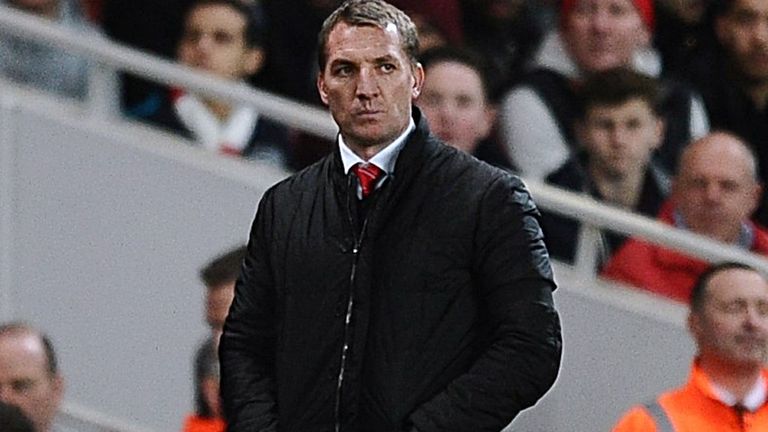 Steven Gerrard scored once from the spot after Luis Suarez had been brought down by Lukas Podolski, but appeals for a second penalty were waved away moments later.
Again it was Suarez who was involved when he appeared to be tripped by Alex Oxlade-Chamberlain, but Webb's decision to wave play on denied Liverpool the chance to equalise and Arsenal held on to reach the quarter-finals.
"He's always asking questions of defenders, and quite a lot of the time he doesn't get what he deserves," Rodgers said about Suarez.
"The one at Chelsea (when Samuel Eto'o fouled Suarez in December) was a clear penalty. He's got a penalty but should've deservedly had two penalties today.
"And if it is a penalty he should have it, irrespective of what his reputation is.
"I thought that was quite an easy decision for the ref.
"Luis has a touch, gets around him and it looks a blatant penalty.
"We're bitterly disappointed to have not got that because then it just keeps our momentum going for the final stages of the game."
Rodgers did not speak to Webb immediately after the game, but will ask for an explanation.
The Liverpool boss added: "For me, it's gone. You can't change it, you can't affect it. I'll speak to an assessor.
"It would be nice to know why it wasn't given, because it can be a defining moment in the game."
Gerrard might have been sent off in the second half for tripping Oxlade-Chamberlain after being booked for an earlier foul on the winger.
Rodgers added: "I think it was a foul. I'm not so sure it was a yellow card. Howard's used his common sense. He got that correct."
Daniel Sturridge twice had opportunities in the opening five minutes to fire Liverpool into an early lead but saw his run of scoring in eight successive games end.
"He's disappointed and he'll be disappointed for the team as well," Rodgers added.
"I thought our performance level was outstanding.
"To come here, virtually dominate most of the game and look a real threat going forward, to end up with nothing in the game disappoints because it was a competition we wanted to do well in.
"We could very easily have had another five or six goals today, but we weren't as clinical."
Liverpool are four points behind Premier League leaders Chelsea and now have one target.
Rodgers added: "It narrows our focus now into one competition and we just continue with the confidence and the belief we've been playing with.
"We're going to have a really exciting 12 games to finish."