Premier League: Luis Suarez says he is now dreaming of success with Liverpool
Luis Suarez believes he can achieve his 'dreams' at Liverpool, one of those being playing in the Champions League.
By Graeme Bailey - Tweet me: @graemebailey
Last Updated: 21/02/14 6:24pm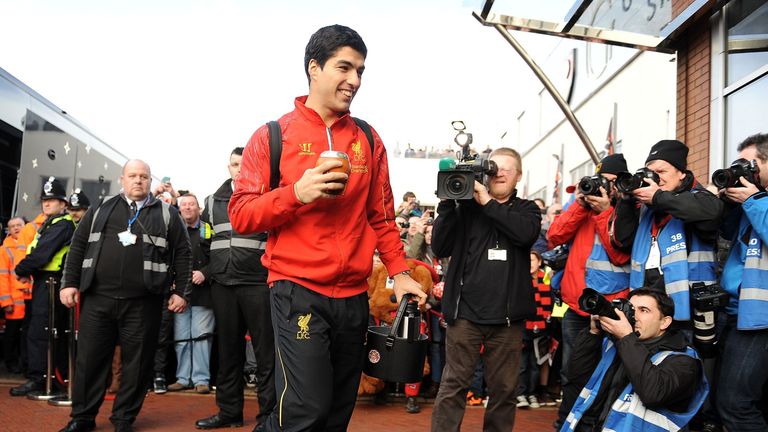 The Uruguay forward has enjoyed a wonderful campaign thus far, with 23 goals in his 21 Premier League games and 10 assists.
Suarez, who last summer asked for a move away from Anfield, insists he could not be happier at the club, who he is determined to lead into the Champions League for the first time since 2010.
The Reds are currently three points clear of Tottenham in fourth, but just four points off leaders Chelsea - and Suarez is hopeful they can maintain their form and reach Europe's elite tournament.
"I want to be there with Liverpool. It's an unbelievable competition. It's where we want to be - playing against the top teams in Europe," Suarez told the Liverpool Echo.
"I watched the games on TV this week and when you hear that Champions League music, that's motivation in itself.
"Stevie [Gerrard] has told me about Champions League nights at Anfield. He said when you have played Champions League football at Anfield, you will never forget it. I want to try it for myself.
"When I arrived here, I said it was my dream to play for Liverpool and play Champions League here. I know I can achieve my dreams here."
Suarez admits that a top-four finish remains the Reds' focus as he is unsure they can really compete for the title this term.
"Can we win the title? I'm not sure. I think this season the Premier League is so difficult. Every team can lose games. Man City, Chelsea and Arsenal have been dropping points," he continued.
"We are very strong at home and we must keep going like this. As the manager said, we are a Chihuahua! We must just focus on every game. In football, you never know what can happen.
"To be in the Champions League is what we all want. This is our objective - to play in it next season.
"We know we have a small squad. When our best 11 players start, we have shown we can do well against any team. But if we have one or two injuries, it can become difficult for the manager."
After losing to Arsenal in the FA Cup, Liverpool know they can focus solely on the Premier League as they have just 12 games of their season remaining.
"It was disappointing to lose to Arsenal, as we wanted to do well in the FA Cup," he said.
"It was a competition we had a big chance in and we played well, but we know that in football not everything goes your way.
"We have forgotten about that quickly. Our focus is on the next game against Swansea. We have 12 games left and let's see what we can achieve."
Sturridge
Suarez admits his strike partnership with Daniel Sturridge has been a huge plus point for Liverpool.
"I enjoy playing with Daniel and there is a good relationship between us," he said.
"I think both players love scoring goals. It's important when you have two or three players like that, as it gives more confidence for the team.
"Daniel was scoring goals when I couldn't play at the start of the season and then when Daniel was out injured, I was able to score a lot of goals. It's important for the team not to be relying on one player.
"The team is always more important than any individual. If I don't score but the team wins, I am so happy. Last season, I went six games without scoring. Now it's four games, but it's no problem.
"I know I am in another position now and I try my best there. I will work very hard for the team.
"It doesn't matter who scores the goals. If Daniel or someone else scores, I am so happy for them."
After his summer of uncertainty, which saw him demand a move before returning to the club to see out a domestic suspension, Suarez has paid tribute to the club's supporters.
"The fans have helped me so much," said the South American star.
"Everyone knows that I had some difficult times last summer.
"But they have always supported me and always had confidence in me. I really feel that support in my heart.
"I think this has been the best season of my career so far. It's my job to score goals and create goals, and help the team.
"When you have really good team-mates and a manager who believes in you, then it helps so much with your job.
"For me, stepping on to the pitch knowing I have the confidence of the supporters means everything to me as a player. They help me to give my best.
"I am so happy both on the pitch and outside the pitch. My family are happy also and that's very important to me.
"Things are going well but I need to keep going. I can never stop. I will keep trying my best."
Behaviour
Suarez believes his on-field behaviour has improved, following his ban for biting Chelsea's Branislav Ivanovic last year and he admits he needs to lead by example.
"I try to keep my cool on the pitch with referees and defenders. I try not to get involved in arguments," he said.
"It is better to just concentrate on helping the team - that is the most important thing. You need to keep a clear mind.
"When I was a kid, I listened to the big players. Now I'm a big player in a big team other players come to speak to me. It's a positive for me. I need to be an example."
With 74 goals in just 121 games for Liverpool in all competitions, Suarez is well on his way to legendary status at Anfield - but he is first to admit he is still some way off the likes of Kenny Dalglish and Steven Gerrard.
"No, no, I'm not at that level," Suarez said.
"Kenny is number one. When he was a player, he was just unbelievable. I've watched the videos of him.
"Stevie for me is the best player we have here. He has achieved so much.
"He's our captain and a great leader. In the dressing room, he never thinks he's better than anyone else. For me, he's been one of the best players in the world for a lot of years.
"I think Liverpool have a long history with many great players. I hope one day to be up there with those great players. I'll try my best to write some history here."