Manchester City's Yaya Toure believes there are five contenders for the Premier League
Manchester City's Yaya Toure believes this year's title race could be won by any one of five Premier League teams.
Last Updated: 22/02/14 1:33pm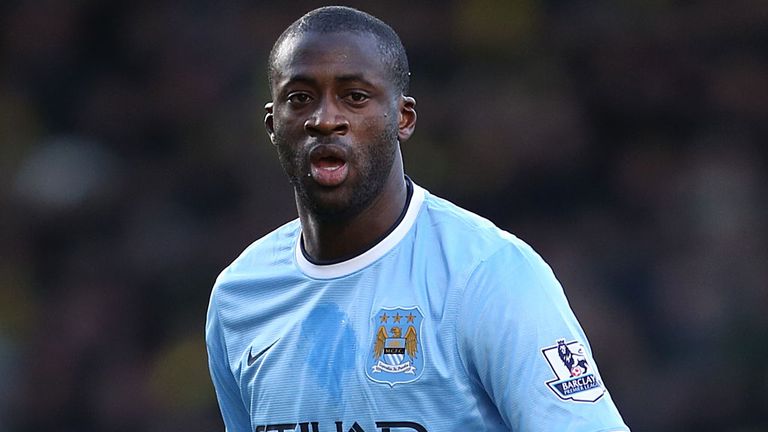 Three points separate Chelsea, Arsenal and City coming into this weekend, with Toure's side having a game in hand after the postponement of their match with Sunderland on February 12.
Despite the trio's dominance in the league so far, the Ivory Coast midfielder believes Liverpool and Tottenham still have a chance of winning the title.
"It's fascinating. This year it won't come down to many points, it's like a game of leapfrog," he told the Sun.
"We're ahead and then Arsenal overtake and then Chelsea as they beat us.
"There's also Liverpool and you shouldn't forget Tottenham. It's going to be close, very, very close."
Toure believes the winner will come down to whoever has the superior mental strength in the remaining three months of the season.
"The mental aspect will be the key factor now. Chelsea have Mourinho there. He's not actually playing but he has that psychological strength. He's a great coach to be honest.
"Arsene Wenger's there with players who have a lot of experience of the English league and at the moment they want to prove it," he added.
"And City, obviously, with quite a few new players who have arrived and a new coach."
City's defence has been criticised this season, in particular the performances of Martin Demichelis and Joe Hart, with Toure admitting their attacking style of play can be risky for their backline.
"When we're not well balanced or in position, we're really exposed, which means that we were almost overwhelmed by Chelsea. But Joe Hart made a lot of good saves." he said.
"Everything is geared towards attack and it's true we leave our defenders in our wake a bit. We're trying to strike the right balanace at the moment. You can't just shake everything at once.
"But we'll try and make do with it because the main priority is to win important trophies, not to stop here and continue where Roberto Mancini left off.
"That means winning the Premier League, FA Cup, all the cups."